When Harry goes up against Peyton, you know sparks are going to fly. In "With Friends Like These," though, when these two squared off for the third time, a lot more than sparks were flew around the court room.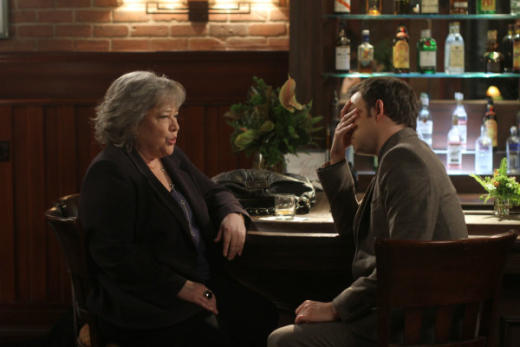 As Harry said, there are not many people grumpier than her. District Attorney Josh Peyton is one of those people, however, and the chemistry between the two of them has always been one of the best things about the show. When you put Kathy Bates on screen with Paul McCrane - who does an amazing job playing the hard-nosed, fast-talking, by-the-book jackhole D.A. - you get some of the best scenes to date.
This week was not exception, as Peyton went absolutely bat-crap-crazy when he lost to Harry... again! Watching Peyton strip his clothes off while berating the jury about its lack of upholding the law made me laugh so hard I had to rewind the DVR to actually hear what he was saying. I still haven't gotten it all.
It's amazing how far Harry has come this season. This week, she seemed to have evolved a tiny bit more when she went to check on the disgraced Peyton and befriended him (even learning his friends call him "Puck").  
Now that Peyton has left the D.A.'s office, I really hope we have not seen the last of him. Maybe Harry could bring him in as a third attorney. Actually, I am not sure if his personality is really right for such a position. He most likely would just "puck" things up for Harry and Adam. 
As for Adam, he finally came clean with Chunhua and let her down as easily and nicely as he could. But when it came to him and Rachel, I felt like we were watching some kind of odd square-dance. Both join hands and mingle fine. One gets shot and now it's kissing time. Other not expecting it, apology time. Both admit feelings, now its avoiding them time.
I know things can't go smoothly right away. There wouldn't be much plot in that case. It just comes across as really one-sided when Adam is being pathetic and chasing his ex-girlfriend, who has made it clear she is with someone. We need more of a sign of interest on Rachel's part before I will invest emotion in hoping he gets her.
On the other side of the stock room door, we have Malcolm and Jenna still trying to get their romance ignited. Did I miss an episode since last week or did their date happen completely off camera? I was so confused when Jenna started giving him a hard time about not calling after their night out. Hey, David E. Kelly, was there a reason we couldn't interrupt some of those scenes of Rachel and Adam playing emotional tetherball to show Jenna and Malcolm on a date?  
Then again, when Jenna and Malcolm finally did get some camera time, I can only place the results in the category of "Get the Puck out of here!" Did Jenna really tell Malcolm if they were going to date she would need to train him, like she has done all her other boyfriends? 
Malcolm, I feel we have gotten to know each other over the last few weeks, and let me share something with you: She is not that hot and you do not need to be trained. You are not some Teacup Poodle she can carry around in a bag. I have one word for you bro: RUN. Run fast, run far, and don't look back. 
You were right when you said she was a nut job; don't second guess yourself. This is the type of behavior that leads to you coming home and finding every picture in your house replaced with ones of her.  
In closing, it was a great episode, back to what I have come to expect and enjoy from Harry's Law. I know next week's season finale is going to be Pucking great as Harry defends Peyton. But what would make it an awesome sendoff would be working Tommy Jefferson into the mix.  
Jim G. is a TV Fanatic Staff Writer. Follow him on Twitter.