As if he hadn't already left an indelible mark on NCIS in seven-plus seasons, Michael Weatherly directed a compelling, unique and thoroughly entertaining episode Tuesday.
Michael deserves praise all around, because while "One Last Score" was definitely unusual as NCIS episodes go, it was still terrific, well-acted and perfectly paced.
A lighter tone was indicative of Weatherly as the shot-caller and hit the mark nicely. Even though there were some corpses, there wasn't a deadly serious moment.
That's not to suggest the plot wasn't typically detailed and awfully complex at times. What looked like a standard murder of an NCIS employee became a lot more.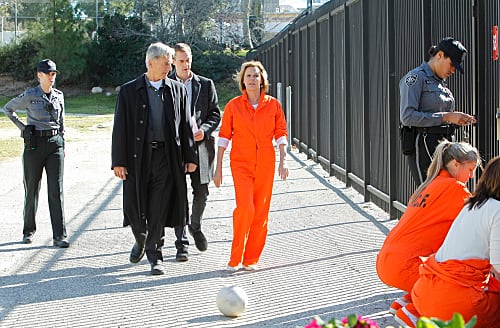 Financier Leona Phelps, a hybrid of Bernie Madoff and Martha Stewart (ankle monitor and all), was accused of defrauding billions from federal employees and thieves alike.
Our original victim was part of a crew trying to find out where she stashed it. Rather than a standard murder investigation, this episode took on the feel of a heist flick.
The Phelps Fund used to retirement funds of people who trusted her, and when Gibbs watched clips of some of the men and women who fell victim to her, it was upsetting.
Especially in difficult economic times - also referenced in the agency's cutbacks Vance was charged with - this struck a powerful chord, punctuated by Phelps' smugness.
The government never recovered her money, but Phelps, who was able to finagle her release from Camp Cupcake, was undone by the fact that she stole from thugs, too.
Gibbs eventually discovers that the thieves attempted to steal her ledge holding offshore account information so they could get theirs back (and then some, most likely).
When they couldn't get it even after pilfering her seized property within NCIS' confines, the last remaining member of the gang tracked her down at her opulent home.
Where, conveniently, she had just secured her release.
Fortunately, Ziva and Gibbs were standing by to apprehend the thief AND nail Phelps, now caught red-handed with ALL her account info. High-fives all around, guys.
You knew there would be a chase scene with Weatherly behind the camera, and this was a good one, especially the end with Gibbs' mere glare inducing surrender:
After watching that scene again, all I can think of is that Mark Harmon is no Steve McQueen, but he's not too far off, either. I doubt I'll get a lot of arguments there.
This nod to the ultimate film anti-hero was far from the only Weatherly touch, of course. The topical, cinematic references were off the proverbial hook this week.
Ducky and Tony reflected on Psycho while lambasting Palmer for not seeing it. Tony referenced Xanadu from Citizen Kane, lambasting the guard for not knowing it.
The fact that Phelps owned William Faulkner's old desk was another nice touch. The show's writing and direction makes even the smallest details quite memorable.
If anything felt slightly off last night, it was the introduction of E.J. Barrett (Sarah Jane Morris), who transferred to D.C. from Spain - the very post Tony turned down.
E.J. caught Tony's eye early and often. Ditto Gibbs, but not in the same way.
It's unclear if he's just surly toward newcomers (very possible with L.J.) or doesn't like her specifically for reasons unknown. We'll find out more in the coming weeks.
While I liked E.J. and she seems like she could blossom into a dynamic character, the shower scene at the end caught me very much by surprise. It seemed sudden.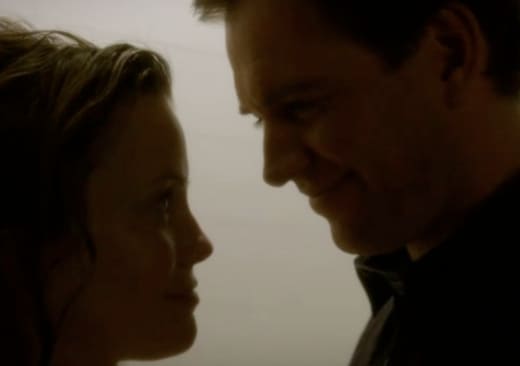 We haven't even met her team yet (she has one, right?) and she's already half-naked with Tony? In typical fashion, we faded to black before they actually kissed, but ...
Needless to say, it'll be interesting to see where this goes, especially in light of the fact that we're soon going to meet Ziva's boyfriend Ray. What did you think of E.J.?
While I don't see a need for her on the show, I'm open-minded. If we rejected every new character without giving them a shot, where would we be? Remember Ziva?
On a lighter note, and perhaps not coincidentally, there were references to showering earlier in the night, with McGee, Ziva, Palmer and Tony all exchanging notes.
Basically ... Michael Weatherly has a thing for showers. Not surprising or unfunny.
What did you think of last night's NCIS? Comment and discuss below!
Steve Marsi is the Managing Editor of TV Fanatic. Follow him on Google+ or email him here.