Martha Masters bid farewell to Princeton-Plainsboro Monday night.
While her character's fate remains open-ended, Amber Tamblyn's next step is developing a new Fox series with House exec Katie Jacobs and The Wire co-creator Ed Burns.
In that show, she'll play a public school teacher. In an interview with TV Line, she discussed her new character and the one who left just as we were getting to know her ...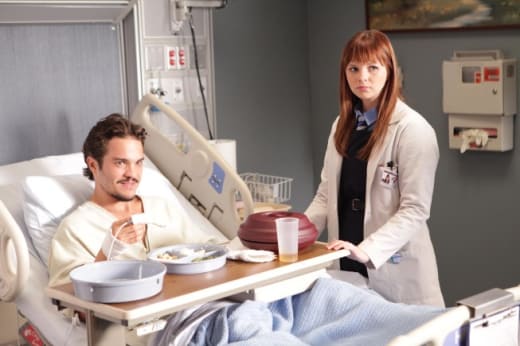 On whether Masters will still practice medicine: "It's left open. I think she is going to still practice ... At the end of the day, she just couldn't do what House does."
On whether she planned - or hoped - to stay put as part of the House cast: "Thirteen episodes was always what I signed up to do. That was the plan all along."
"That was the situation. I never had any intention of staying longer than 13 episodes. That got really emotionally difficult toward the end because I didn't want to go."
"But Katie and I fell in love with this other project and I knew the time was right. Katie and I got [House creator David Shore's] blessing and went and did our thing."
On whether she's happy moving on to the next project
: "I like to jump around a lot. I feel this way a lot about projects. I felt this way about Joan of Arcadia."
"Because people were really upset about that ending and they always ask and I always say, "I think it's better to have two really fantastic seasons of television."
"Who knows what would've happened after that? I don't like to get comfortable where I am. I think it's dangerous to be too comfortable in what you're doing."
Steve Marsi is the Managing Editor of TV Fanatic. Follow him on Google+ or email him here.