Ah, family.
In "Like Father, Like Son," we met not only Christian Beaumont, our escapee but his father Ellis as well. The two solidified the belief that hate is taught. As I watched this father and son team and their crazy friends, all I could think was how miserable it must be to hold that much contempt for most of the human race.
Christian Beaumont was your basic bomb happy, anti-government, racist. Things got really interesting when he left a package on Charlie's doorstep.
Thank goodness his wife wasn't badly injured.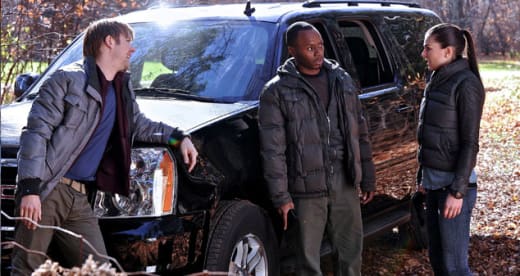 Still, when Charlie chose to run back to work instead of remaining with Marisol at the hospital it gave me pause. I understood why he did it.
Beaumont was still on the loose. His bombs could kill hundreds of people. 
On one hand Charlie's choice was admirable but if I were Marisol I'm not sure how I'd feel. Constantly coming in second to Charlie's career can't feel good. At some point Charlie needs to go home and put his wife first before he no longer has one.
Although I didn't feel like we saw enough of Erica this week I enjoyed what we did get. When Shea quipped, "Oh damn. White girl's fast." He wasn't kidding. She's not only crazy fast, she throws a mean tackle.
I loved how Erica was tougher than her two male counterparts. It's also great how they kept throwing in references to her bounty hunter background as she was the one to notice the metal shavings from the handcuffs and the missing hacksaw. 
What was Lloyd so afraid of? It sounded like mom had hidden information about his father from him for most of his life and Lloyd's allowed her to do it. Now that he had the access to the truth, he couldn't bring himself to talk to the man. 
Grown up Dr. Lloyd Lowry suddenly resembled an awkward twelve year old. It seemed Lloyd was adept at psychoanalyzing himself, he just couldn't change his behavior. 
It was easy to see how hate bred hate as Charlie held the gun to Beaumont's head. I had no doubt a part of him wanted to pull the trigger but was thankful that his better instincts and Ray's words talked him down.
When Ray took the cons out for pizza before heading back to prison, it was a nice touch. This motley bunch becomes more of a team every week but they certainly aren't looking to make it easy on one another. What fun would it be if they did.
C. Orlando is a TV Fanatic Staff Writer. Follow her on Twitter.