Shush clap, everyone. I'm about to review "You're Gonna Get It."
What started out as merely an "ok" episode, gained momentum toward the end. I attribute this largely to Busy Philipps and her character's trumping (maybe this is the wrong day to use that word) of Ellie and Grayson in the trivia challenges. For me, this brought the majority of the laughs, primarily because it featured the most trash talk, in which the Cul-De-Sac Crew should receive a doctorate.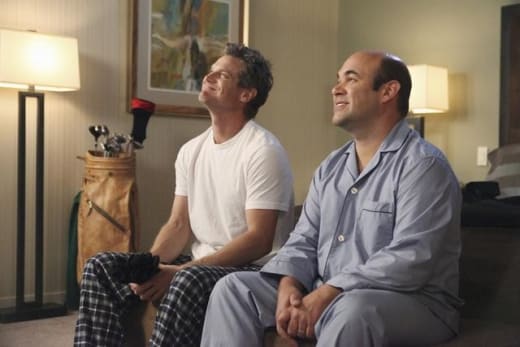 The other main story thread wasn't quite as funny as I would have hoped, though the opposing ways that Jules and Bobby reacted to their highly visible errors really did fit their characters.
Jules, on the one hand, has never felt more like Monica Gellar than she did tonight. In fact, after her opening line "Ok, we all know why we're here," I half expected her to follow up with "Because I'm ALWAYS the hostess."
The way she stormed in and took over Laurie's charity was classic Monica. Her consistent neediness and self-absorbed ways - at least until she realizes it - definitely falls under the same category. Not that it's necessarily a bad thing.
I loved her on Friends and felt her Emmy snubs were unforgivable, but it almost makes me wonder if this is the only comedic character Courteney Cox can play. (Ironically, I said the same thing about Matthew Perry recently.)
I will say, though, I felt Jules' pain with the faux pas. On some level I think we all did. One of my biggest fears is also to feel like an idiot in front of people. Full body shutdown? Been there. Although I don't look anything like a super-sexy corpse. On that level, I totally appreciated where she was coming from.
Except for on the pseudo-psychic front. Yeah - she's all on her own there.
Bobby, is such a lovable goofball. There is really no way not to smile whenever he says or does something so ridiculous, such as using the Hammer dance to mime to a swimmer's ear-afflicted Andy what golf club to hand him. His clueless positivity is infectious, and I loved his advice to Jules that you can't hear the world laughing at you if you laugh harder. Advice we'd all do well to apply.
Other moments that seemed to strike my fancy:
"Wrong Balls"
The aforementioned Shush Clap.
Bobby in the golf bag.
Grayson's mocking of Travis.
The Confidence Dance.
Laurie's Alex Trebek diss.
Bobby's commercial.
Andy's golfbag-pool drills.
The always fun Barb pop-in
Ellie's mimic of Charlie Brown's teacher
The Caddyshack reference
All in all, another solid episode of Cougar Town. Care to share your thoughts in the comments below?
Jeffrey Kirkpatrick is a TV Fanatic Staff Writer. Follow him on Twitter.