Wow. That might be the most unfunny episode of Modern Family I've seen yet.
Admittedly, I grinned at the sight of the unfortunately positioned graphic on the Dunphy van as I imagined the naughty snickers it would elicit from passersby (what former 14-year old boy wouldn't), but are cheap, juvenile sight gags really something to which this acclaimed series has stooped?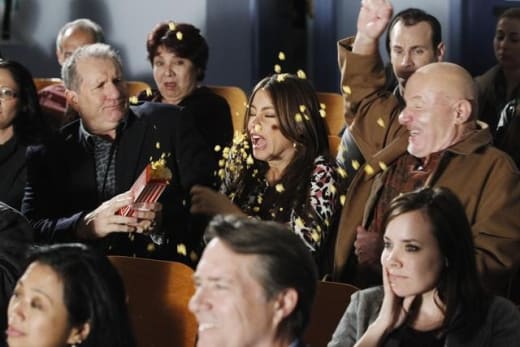 Evidently so, if the anticlimactic, F-bomb of an ending (literally) to the overproduced and underperformed children's play, directed by the cloying fussbudget Cameron, is any indication.
I couldn't even chuckle at his misappropriation of Stephen Sondheim's name because he became increasingly obnoxious as the episode progressed.
Even Phil's unknowingly double-entendre laced conversation with what he assumed was a potential client felt like someone turned the writer's room over to a handful of teenage boys.
What is wrong with Modern Family these days? Does all humor have to stem from infantile misunderstandings and wild stereotyping? This is a show that has been praised for its sharp writing and riotously bold representation of today's modern family.
Tonight's episode just didn't reflect that at all.
The one genuinely funny moment was when, after a day of having his criticism stifled, Michell stormed out of the theater and spewed a barrage of complaints about the play to no one in particular because he could hold it in no longer.
Something "The Musical Man" did have going for it, though, was the heartfelt moment between Jay and his brother, Donny, played by the appropriately cast Jonathan Banks.  Jay actually listened to Gloria's Colombian-fed advice with regard to the excessively antagonistic relationship with his brother.
It isn't often that we get to see Jay's softer side, so it was a nice surprise to see him express his love for his cancer-afflicted brother - even if there was a slight punch to the liver involved.
Did this episode make all your dreams come true, or is it just that I can't be satisfied? Tell us below, then check out some of last night's best Modern Family quotes:
Cam: Why do you have to throw a wet blanket on my dreams?
Mitchell: I do not.
Cam: You do it all the time and you know what I end up with? Wet Dreams. I heard it as soon as I said it; just leave it alone. | permalink
Cam: Years from now some of these kids will still be talking about the way I Sondheim-ized them. | permalink
Claire: Sweetie we did it! Our baby is average! | permalink
Cam: We're running twenty minutes long so we're cutting the Bollywood number. | permalink
Haley: What are my friends at school going to think?
Claire: They'll think you're helping your father put food on the table. | permalink
Gloria: Where I come from, brothers respect each other.
Jay: That's why Colombia is such a peaceful country. | permalink
Donny: Get your prostate checked by a doctor, not some guy you met on the internet. | permalink
Phil: I think the carpet matches the drapes, I haven't checked in a while. | permalink
Manny: Kevin is biting his nails again and Rueben hasn't had a bowel movement in a week. Don't laugh. That's how Elvis died. | permalink
Mitchell: Tell Bob Fussy he's overdoing it and you want to go back to the old stuff. | permalink
Haley: It doesn't matter! I'll go home with anyone!
Alex: That's what it should say on the van. | permalink
Jeffrey Kirkpatrick is a TV Fanatic Staff Writer. Follow him on Twitter.