Parks and Recreation Review: "Jerry's Painting"
Nick McHatton at .
After a small stumble last week, Parks and Recreation returned with one of its strongest episodes of the season Thursday.
This week I genuinely laughed at Leslie reacting so positively to "Jerry's Painting" after realizing the centaur is her, modeled after someone he thinks is a powerful woman. Watching her feel powerful and boss people around was fantastic.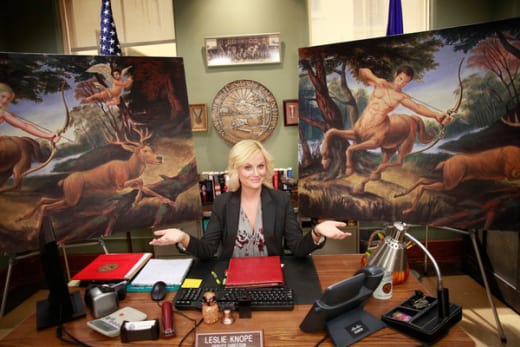 It became even better when the baby in Jerry's painting was Tom complete with chubby baby thighs and pot belly. Watching the department laugh and giggle (especially Ron's reaction) was priceless and mirrored my reaction perfectly.
Meanwhile, Ben decides to move in with Andy and April because his 4-star-rated-by-nobody hotel is full of bed bugs, random wake up calls, and delightfully unstable temperatures.
If I were Ben, after looking at the way Andy and April live, I would be running out the door. But kudos to Ben for sticking it out and deciding to teach Andy and April how to live like adults.
Another sweet moment in the show was with Andy and April in Bed, Bath and Beyond. I was really happy to see Andy decide that as much fun as buying and playing with all of the "As Seen On TV" it's even nicer to have your own forks and plates (absolute sage advice).
It's something many of us young adults go through and it was nice to see it reflected in Andy and April. April isn't quite ready to be a "fun-less" adult but at some point we all have to. But not before buying the marshmallow gun (something I would totally do as well).
Other thoughts:
I loved that Leslie changed her hairstyle to match the painting.
I was missing my Ron Swanson time. One Ron Swanson saying isn't enough to fill my quota.
Eating Turkey Chili in a frisbee is now on my bucket list.
I know Marsha is made to be annoying but she truly annoys me to no end.
I'm very happy Leslie sneakily figured out a way to keep the painting. Hopefully we'll see it again someday.
What's your take? Tell us what you thought of last night's episode by leaving a comment below and peruse some of our Parks and Rec quotes here!