With a captivating guest star, The Mentalist gave us a villain worthy of Jane. "Every Rose Has Its Thorn" brought us Morena Baccarin as Erica, the grieving widow turned murder suspect.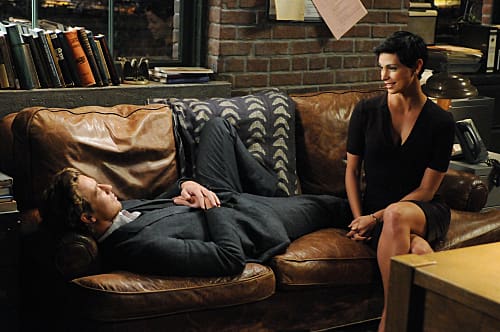 Baccarin had a special quality. She was somehow both bold and ethereal. The effect was bewitching, making Erica an intriguing match for Jane. Erica was able to read Jane, empathize with his plight, and match his manipulations. It's rare for Patrick to find such a challenge.
Regrettably, Erica wasn't perfect and neither was her crime.
It surprised me that she baited Jane openly while he lie on the sofa. She all but admitted her guilt. Up to that point she had continually insisted that she was innocent. I suppose arrogance was Erica's fatal flaw as her greatest desire became proving to Jane that she'd won.
Of course, she was right.  Despite Jane's best efforts she still hadn't completely lost. Erica's a master manipulator and most people won't see through her the way Jane did. I hope a not guilty verdict will bring Ms. Baccarin back to The Mentalist sometime in the future.
When Jane and the CBI conned Erica into believing that Peter had committed suicide, Jane made mention that it was her husband's body in the body bag. Seriously? The CBI is now pulling out corpses from open cases and wheeling them around town in order to pull off Jane's cons. 
There wasn't much to comment on for the back stories. Rigsby going undercover just came across as silly fluff. The best part was Grace blowing off the sleazy guy who was hitting on her. Grace is more fun when she's being forceful.
I liked how she got the little yappy dog to quiet down too.
In the end we got to see Lisbon viewing Jane's matchmaking video. As he answered those questions it just drove home how much he loves and misses his wife. I honestly don't know if he will ever recover enough to move on. Do you?
C. Orlando is a TV Fanatic Staff Writer. Follow her on Twitter.