It looks like Patrick Jane is in trouble and it is worse than usual. Much worse.
"Redacted" had Jane hiring thief Culpepper to break into LaRoche's home and it went horribly, horribly wrong.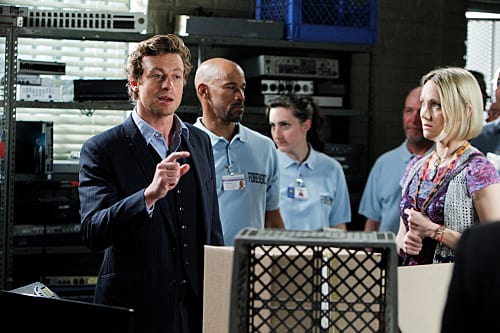 I loved that LaRoche clutched his little dog as he fired on his would be robber. It probably didn't do much for his aim but it was darn cute. 
Why would Culpepper not open the duct taped plastic container? It was certainly odd that it was kept in a safe. I couldn't believe he wouldn't bust it open just out of curiosity. It left me wondering if that silly container and its contents will come into play before the end of the season.
Poor Jane was so distracted by his predicament that he seemed to miss most of the case but he hit the highlights at the end. 
My favorite part was that Heather felt justified in killing her boyfriend because she planned to use the money for good and not evil. "The universe wants me to have this money." Sorry Heather. The universe didn't issue a free pass for murder with the cash.
Cho, Rigsby, and Grace had very little story this week but I did like that Grace used her girl next door looks to sweet talk the mercenary into coming inside. She pulled the pretty girl act off well and Cho and Rigsby stood behind her looking more like big brothers ready to beat the man up if he didn't do what she asked.
I was so thankful when Jane finally confessed all to Lisbon. It showed quite a level of trust that he admitted to committing a crime. He obviously saw her as a friend first and a cop second. Luckily for him she seemed to feel the same.
I had no clue what Lisbon would do when she walked into that room. At least slugging Culpepper probably felt good. Having that type of incident on her record certainly underscores her feelings for Jane. A couple of years ago she wouldn't have thought about sticking her neck out for him like that. Now she didn't seem to think twice about it. How things have changed.
C. Orlando is a TV Fanatic Staff Writer. Follow her on Twitter.