Wow. There's no other word to describe an episode that delivered so much mythology, but in a way that didn't come off as forced and certainly didn't feel like a letdown.
On the contrary, everything about last night felt epic.
Incorporating flashbacks without diminishing the drama playing out in the present, and revealing secrets that, incredibly, made Klaus seem even more dangerous and hard core, this may have been The Vampire Diaries' best episode to date.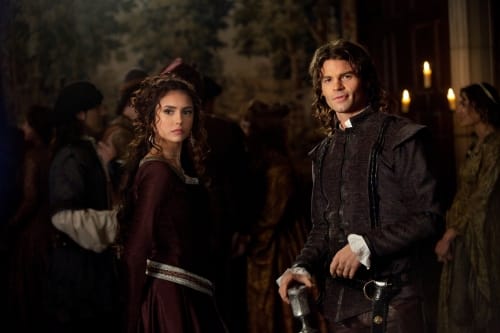 The episode bore the name "Klaus," and as good as Joseph Morgan was in his debut as the titular character, Daniel Gilles' performance as Elijah was one to behold as well.
Telling the real story about the oldest vampires in history, Elijah recounted to Elena how Klaus met Katerina and spelled out exactly what makes Klaus so darn important.
What made it so amazing was that unlike some shows (cough, Lost), the buildup to these revelations proved worthwhile. Seemingly impossibly high expectations were met.
Two weeks ago I called "Know Thy Enemy" a game-changing episode. It was a good one, yes, but I can only laugh now, as "Klaus" was the mother of all game-changers.
Let's break down the secrets Elijah revealed that not only altered the entire scope of the show, but made us more invested in TVD and its increasingly complex characters than ever:
Elijah is Klaus' brother.
Interesting twist right from the start. Their mom had seven children, and are basically the First Family of Vampires.
Every
vampire came from them.
He didn't delve into how they became vampires (a story for another season), but this means there are five other originals! That alone is startling, and we're just getting started ...
The Sun and the Moon curse is BS! Klaus concocted the Sun and the Moon curse and how it originated from the Aztecs, but it's not even true. Just part of Klaus' master plan.
I loved this because even though it undid so much of what we learned so far, it actually makes more sense. Why would Klaus care about the Sun and the Moon curse so much?
Vampires are doing quite well as it is (especially the originals). His agenda had to be bigger, and it turns out it is. The sun/moon thing is just a deeply-rooted, clever diversion.
He wants all vampires and werewolves on the lookout for the doppelganger, because she WILL reverse the curse ... the real curse, which is way worse and impacts only Klaus, since ...
He's half-vampire, half-werewolf! Seriously. Elijah reveals a stunner: his mother had an affair and Klaus' real father was a werewolf, making Klaus extraordinarily dangerous.
The witches wouldn't allow such an all-powerful supernatural being to exist, so they placed a curse on Klaus (and only Klaus) and his werewolf half has been kept dormant.
This is what Klaus is hell-bent on undoing, so that he may realize his true power and create an entire race of ... whatever he is. Basically, the whole world hangs in the balance.
Again, with all the mystique surrounding Klaus before we met him, it was a tall order for TVD to make him live up it, but last night accomplished that and then some.
Klaus must die during the sacrifice. The dagger covered in white ash won't work on him. A witch has to do the job during the sacrifice when he's at his most vulnerable.
However, because Elijah was in love with Katerina, who Trevor helped escape Klaus in 1492, he says he knows a way to perform the ritual without killing the doppelganger.
That's obviously good news for Elena, but on top of his history with Klaus, Elijah definitely harbors some resentment toward Katerina, and it's unclear what his endgame is.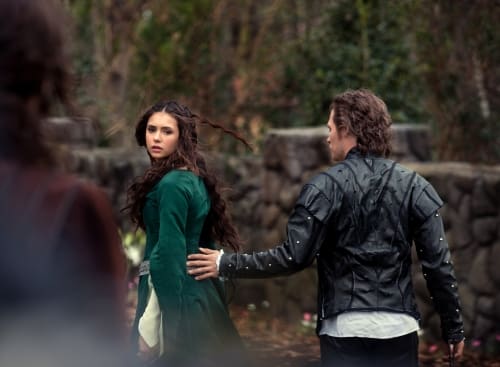 These bombshells only increase the pressure on Elena and Elijah to take him down once and for all, while her newfound ally drove a wedge in between Damon and Stefan.
The riveting Elijah/Klaus backstory would have been plenty for this episode, but it was woven in perfectly with the already-escalating tension tearing the Salvatores apart.
Differing views on whether they can trust Elijah was ostensibly behind the feud, but then Stefan put it all out there: Damon is in love with Elena, but he'll never have her.
Stefan adds that he has something Damon never will: Her respect.
This line understandably hit too close to home, sends Stefan flying across the room after Damon uncorks a vicious uppercut, and nearly ends in Andie Star becoming dinner.
Damon barely has enough self-control to stop. Amazing. Was Stefan right? Does Elena not respect Damon? Jealousy of his brother is one thing, but this really set him off.
Elsewhere, Jenna finally finds out the awful truth about vampires thanks to Klaus/Alaric (Matt Davis in another terrific scene). What do you think Jenna's next move is?
Finally, the real Klaus shows up in Mystic Falls in a thoroughly creepy coffin-like box (the man knows how to make an entrance) as his entourage de-possesses Alaric.
One last twist here that was practically glossed over? Greta (Luka's sister) is part of that witch entourage, and seems happy as can be. Wonder how long that will last.
Overall, a stunning episode I can't help but give 5/5 stars. Between the vampire lore and the Salvatores' feud boiling over, I don't know what more it could've offered.
A mythology-heavy installment like this could have fallen short so many times, but it used the characters so flawlessly and if anything, the secrets raised the stakes. 
We turn it over to you, Vampire Diaries fanatics. What was your favorite part of "Klaus" and where do you see things going next week? Comment below!
Steve Marsi is the Managing Editor of TV Fanatic. Follow him on Google+ or email him here.