Connor Jessup is the key to Falling Skies. Or at least his character is.
"The more you learn about Ben, the more you learn about the aliens," the actor told us in an exclusive interview this week, previewing the action ahead on TNT's highly-anticipated drama.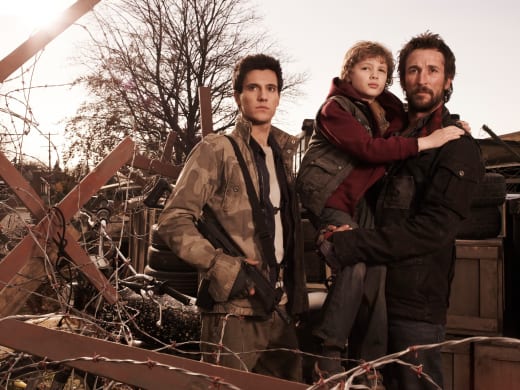 Indeed, Jessup portrays Ben Mason, the oldest son of Noah Wyle's Tom. At the outset of the series, he gets kidnapped by those that have come to takeover earth.
"My character's dad and brother are trying to rescue Ben and trying to figure out what's happening to me," Jessup said. "So Ben really ties in to the greatest mysteries of the show: why do the aliens kidnap teenagers? Why do they put these devices on their backs?"
Despite Ben's distance from his family, Jessup said he filmed many scenes with Wyle, who is making his return to the small screen in
Falling Skies
, following a long, beloved stint on
ER
.
"He's incredible. He really is," the young actor said of his veteran co-star. "He's Talented and passionate as an actor and and just a nice, honest man. He brings a quiet, steady confidence to every scene he's in and it makes everyone else around him better."
We're already in on Falling Skies, as the cast and the War of the Worlds-meets-The Walking Dead premise couldn't be more enticing. But Connor took time to tell anyone on the fence why he/she ought to tune in to the June 19 premiere:
"It's like nothing else in television. It's a TV series that feels like a Steven Spielberg movie. It's familiar because it's based on an alien invasion, but it takes place six months after the invasion. You see the aftermath and the human drama, mixed with incredibly high production."
TV Fanatic will be covering episode episode of Falling Skies in depth. Return all summer long for spoilers, photo, quotes, reviews and more!
Matt Richenthal is the Editor in Chief of TV Fanatic. Follow him on Twitter and on Google+.