Speechless doesn't even begin to cut it. What. An. Ending.
The first half of the episode focused on Sam and his efforts to put himself back together. It was an interesting idea that seemed to combine The Bourne Identity and Inception, but it felt rather slow in the context of things.
While I think "Let It Bleed" did far more for Dean's character, "The Man Who Knew Too Much" did at least reveal what would happen if Sam's wall breaks.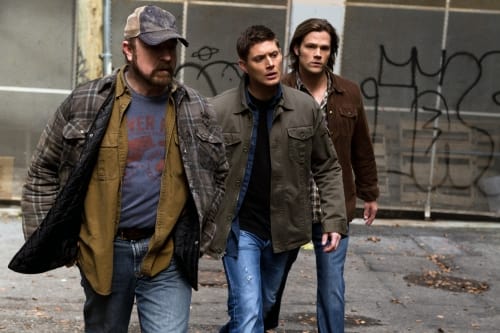 And yes, all three sides of Sam were revealed in his dream state, but I'm not sure how remembering Hell truly affected him. Hopefully, he only gets really bad headaches once in a while.
Yet it was the race against Castiel for Purgatory where the tension and action truly picked up. In the end, it was a great payoff.
In fact, Crowley, Raphael, and Castiel, all managed to appear intimidating and menacing. The short-lived Eve didn't even come close to the screen presence of these other characters.
Crowley kept his banter and calculating decisions intact, combined with a couple changes in partnership. It's interesting to see how easily he can switch between commanding presence to retreating opponent. I wonder if the brothers will have to enlist his help in the future.
Raphael, even as a woman, still managed to evoke his own sense of power. I was pleased he was defeated because after all, he wanted to restart the apocalypse.
But is Castiel better or worse than Raphael?
Ultimately, the worst type of enemy is one who used to be a friend. Castiel had garnered some of my sympathies for his desires to save everyone, but finally seeing him after some soul eating changed my mind. He is one scary guy and his transformation left his old self far absent.
Did the power of the souls blind him? Is he truly the new God? Is he still a good guy?
The last question is hard to answer, especially through his powerful and assured commands to Sam, Dean, and Bobby. What happens if they don't bow down and love him? If anything, they truly seem to fear his incredible powers.
I still can't believe how the finale ended and am rather intrigued as to where the story will go with Castiel's new found power. How do you even stop God? Can he ever return to his normal self before the quest for souls? What about the original God?
Overall, the episode started off slow, but picked up speed for a fantastic conclusion. What's in store for the Winchester brothers? Only next fall will give us answers.
Did you enjoy the finale? What did you think of the final moments? Sound off with your comments below!
Sean McKenna was a TV Fanatic Staff Writer. He retired in May of 2017. Follow him on Twitter.