She'll always be Serena to us, but by the end of the summer, fans will also know Gossip Girl stunner Blake Lively as hot-shot pilot-turned-business executive Carol Ferris.
The versatile Lively is winning raves for her role in Green Lantern opposite Ryan Reynolds. In a new interview, the star discusses her role in the blockbuster flick.
Blake answered questions about the movie, as well as cooking and fashion, in a talk with the Cleveland Plain Dealer. Excerpts from the Q&A appear below ...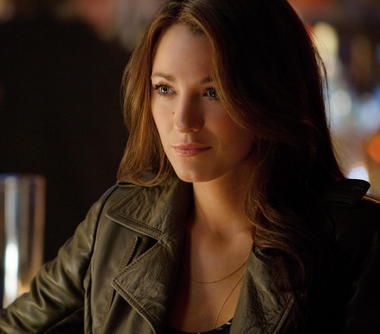 On what attracted her to this role:
So many things, starting with the incredible people I got to work with. Even more, as a female, I always grew up watching these comic (book) films and I had never seen a character like Carol Ferris, where the woman is very much equal to the man.
She's a fighter pilot, like him; she runs the company he works for. I thought that it was really cool that he's this superhero, but she's a bit of a real-life hero in her own right. Carol has the strength and the power of the men who surround her, but she's also able to balance the femininity and be the heart for the man she loves.
On how she'd describe the film to people:
Green Lantern is a unique superhero in that his being super is not the focus. In fact, he's very human. It's his greatest strength and it's also his greatest weakness.
I've never heard of a superhero who inherits such great power but says, "No, you know what? Give it to someone else. I'm good living my life like it is."
In that way, the world is so fantastical that these characters live in, from everything that's happening on planet Earth, with the fighter planes and the dogfights, to all the different planets and alien species. There's such a vast territory that we cover, so to have someone who's so truthful and so human at the heart of it is really refreshing.
On her willpower compared to Carol's:
My mom would always say to me and all my siblings when we were growing up, "Where there's a will, there's a way," and then she always would make the impossible happen. She definitely instilled that thinking in us.
When I was in high school, I took on way too many clubs and activities and extracurriculars. They brought me into the office and said, You can't do all of these things." I said, "Why not?" They said, "It's never been done before."
I said, "OK, great. You'll get to see it done for the first time."
Well, I should have not done that. It was a terrible idea. I went to school from 6 a.m. to 10 p.m. every day and I was miserable, but I had to prove that I could do it because of this will-power thing. It worked out to be a good thing - and I do believe that where there's a will, there's a way.
On how starring in films like Green Lantern and The Town are different from Gossip Girl, which is very much female-driven:
I'm trying to get in touch with my masculinity lately (laughing). No, I have a big family, with two brothers and two sisters, so I grew up with a ton of boys and a ton of girls around. I just feel like I get along with both sexes very well.
On her love of fashion:
Fashion has always been something I've appreciated.
My mom would always make clothes for me when I was growing up. She's also an amazing interior decorator, so I look at it in the same way, focusing on that element of design, mixing different patterns and colors and textures.
Once that I was on Gossip Girl and moved to New York, those two things combined just blew open the opportunities I had to borrow the most beautiful clothes in the world. I feel like I'm getting to play dress-up every day.
Steve Marsi is the Managing Editor of TV Fanatic. Follow him on Google+ or email him here.