These aliens mean business.
Falling Skies delivered my favorite hour of the opening three via "Prisoner of War." Not only did it shed new light on Tom - his overwhelming guilt at accidentally abandoning Hal made even more sense when we learned how his wife died - but it gave us plenty of insight into those invading Skitters.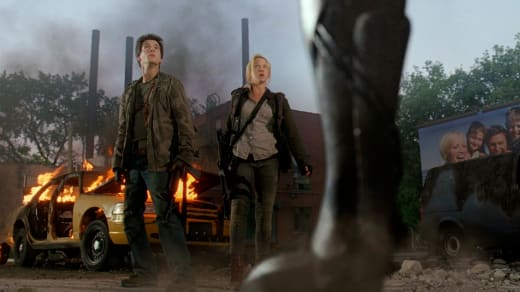 And they are clearly a lot more than just a violent bunch. These are vindictive creatures, the kind that think through their actions and, therefore, raise the most intriguing question of the show's early life: What is such a forward-thinking group forcing those kids to build?!?


Elsewhere, we learned more about Captain Weaver. Did anyone else catch his look when the doctor was operating on the boy? It's safe to assume Weaver has lost at least one child to these harnesses, which creates a new layer to this army man. He wants revenge, but he also wants to protect the citizens who cannot protect themselves. Even if doesn't always show it.
John Pope is fitting in perfectly as comic relief, too. Falling Skies is an especially serious show. It hasn't felt dour because there's been so much going on, but it helps to have a somewhat lighter character around. You know, like an inmate-turned-hostage-taker-turned-proud-cook.
This was mostly Tom Mason's episode, though. Noah Wyle plays him as a father in control of his emotions, except when he truly can't help himself: when one son is harnessed, when another is almost taken, when he's confronted by the man who last saw his wife alive. It's a great, often subtle performance. And it will be interesting to see the lengths to which Tom will go, as events unfold, with his family on the line.
Speaking of which, I'm calling it now: Porter is Tom's father. There was something to the interaction between these two; plus, why else is Tom, a civilian, given such responsibilities?
Overall, an ideal follow-up to a solid premiere. Numerous questions remain: What is the connection between the Skitters and the harnessed children? What is the deal with Dr. Glass? What family members did she lose? Will we get any flashbacks to the invasion or even life prior to it?
I'm most definitely on board to learn these answers. Are you?
Matt Richenthal is the Editor in Chief of TV Fanatic. Follow him on Twitter and on Google+.