Sometimes, I tune into Franklin & Bash forgetting what it is. This show isn't a great legal drama. It's a campy summer dramedy that's light on the drama and heavy on the fluff. 
But just when I roll my eyes and think, why am I watching this?, it makes me laugh in a way that few shows, even sitcoms, can't accomplish.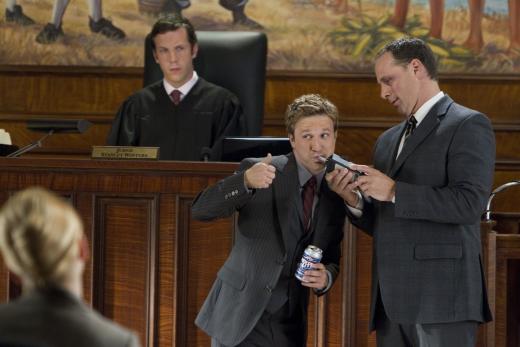 So when "Bro-Bono" gives us elderly prostitutes and impotent playboys, I shake my head. Then, the folks from the retirement home create a drinking game out of the movie Cocoon and I can't hold back the chuckle.
Another example: Rick Paxton blames his impotence on environmental factors like the black mold in his house and Franklin agrees that environment can be a factor. He has the same problem when ABBA is playing. I try to hold back the smile.
Or how about when both Mia and Rick are pictured kissing the same woman in the incriminating photos and Franklin quips, "Are you sleeping with the same mistress? How very green of you." Recycling at its finest.
Even Peter and Janie's lip-biting scene was seriously cute, but the funny part came when Jared starts biting his lip to mock them both. What's a best friend for, anyway?
By the way, I'm hoping to see more of the Peter/Janie story in the future. Will he start actively trying to win her back? That could end up being both sweet, funny and entertaining.
Is any courtroom, anywhere, in any way similar to what we see on Franklin & Bash? Heck no. Not even close and if that's what you're looking for, change the channel.
But if you're looking for a boss who encourages sexual relations between his employees because he feels it breeds better competition, this is the show for you because, as Franklin says, "We're Franklin & Bash. We crossed the line 10 exits back."
Yes, this is over the top, ridiculous fluff, but the cast and characters are so charming, the dialogue so quick, and sarcasm so blatant that it's fun. It is summer, after all. We all can use a little more fun. So sit back, set your realistic expectations aside, and enjoy.
C. Orlando is a TV Fanatic Staff Writer. Follow her on Twitter.