We all know the old saying: The "Enemy of My Enemy" is my friend. For Michael Westen, it turned out to be more like this: "The enemy of my enemy wants to kill my friend."
While I still think she played the "tough as nails" stereo-type a bit heavy last Thursday, I can admit I was wrong and Lauren Stamile's performance was a vast improvement this week.
How could anyone not like her? Especially after we learned she had buried her fiancée, who was killed when a mission went wrong. Stamile has found a good balance between a tough exterior and a caring interior.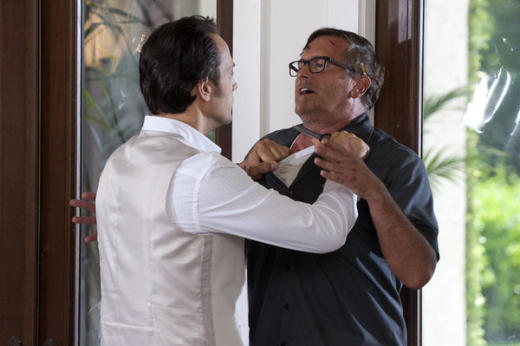 Now, if only she would ditch the CIA-issued sunglasses. One word on the shades Pearce: Oakley!
While Jesse did not have a large amount of screen time, can we all agree that his portrayal of a tweaking drug addict was very well done? I'm not sure if he was channeling Robert Downey Jr. from the 90s or Tweek from South Park. Either way, great stuff.
Meanwhile, who knew that Madeline could do a southern accent? She made me feel like I was back home. Then, you had Fiona playing mild and meek. From the face turned partial away to the turned down eyes that would not meet the clerk's eyes, it was a great performance. And, of course, I couldn't help but laugh when Fiona started the whining noise leading up to the crying.
I had wondered back in April - when Burn Notice: The Fall of Sam Axe aired - how many episodes it would take before a reference or character would turn up this season. The answer? six. Pretty convenient timing given that it was released on DVD two days ago. Well played. Mr. Nix. Well played, indeed.
While not the characters I was hoping for, having Manaro and Bailey turn back up as thorns in Michael and Sam's side was a great addition to this episode. I wonder if anyone (besides me) is still holding out hope that Beatriz will turn up looking for Sam in Miami.
Lastly, in honor of my wife mentioning it nearly every week: what is up with Michael's hair?
I thought it was just styled weirdly when he was portraying some of his alt-characters recently, but he was not playing a mob boss or scum-bag this week when he met Pearce at the hotel. It's seriously distracting. Perhaps he can buy Pearce new shades in exchange for a cut.
Jim G. is a TV Fanatic Staff Writer. Follow him on Twitter.