It didn't work for The CW (Melrose Place). It's been a success for CBS (Hawaii Five-O). Now, TNT is getting into the reboot game.
The network confirmed today that it would air Dallas in the summer of 2012, a remake of the wildly popular drama that ran from 1978-1991. The new version will feature Josh Henderson, Jesse Metcalfe, Jordana Brewster, Julie Gonzalo and Brenda Strong.
They will be joined by original series stars Patrick Duffy, Linda Gray and Larry Hagman as J.R. Ewing.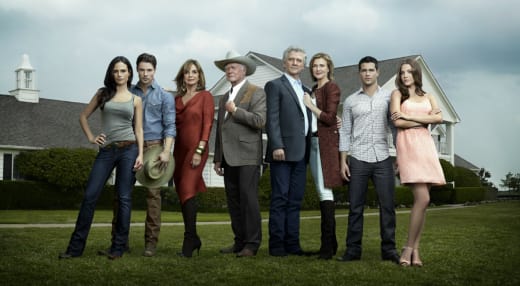 "TNT has explored the possibility of an updated version of DALLAS for several years, but it wasn't until we read Cynthia Cidre's outstanding pilot script that we knew we had the foundation for a great new series," said Michael Wright, executive vice president, head of programming for TNT, TBS and Turner Classic Movies. "It is incredibly exciting to see both new and familiar characters in the hands of a dream cast under the guidance of the enormously talented Cidre and Mike Robin. We couldn't be more pleased with how Dallas has come together."
Look for a sneak peek at the revival to air this Monday during the season premieres of The Closer and Rizzoli & Isles.
Matt Richenthal is the Editor in Chief of TV Fanatic. Follow him on Twitter and on Google+.