If you were after mystery, suspense, surprises and humor, "The Devil You Know" was the Pretty Little Liars episode for you.
Before I get into all of that, though, all me to say one thing: WTH?!? I know I should be focused on the discovery that A was still alive when Ian left her, but I'm sorry. I was mostly laughing throughout that scene at the sheer lunacy of a projector depicting this information on a gravestone.
That made the reveal a bit hard to take seriously, didn't it?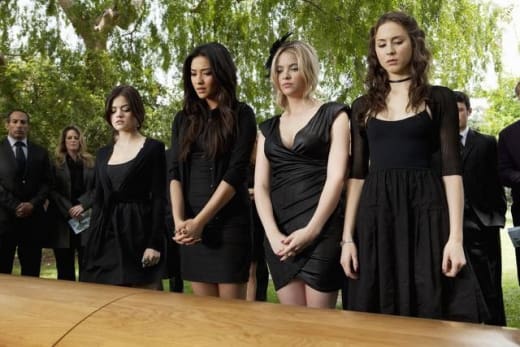 Still, such a stretch of plausibility doesn't change the overriding fact, the question that will dominate PLL for the rest of the summer: If Ian didn't kill Alison, who did?
Also: How can Aria think wrestling is on Tuesday evenings? It's called Monday Night RAW. Sheesh!
Even if Aria isn't up to date on her WWE knowledge, though, I appreciated the allusion to it, as well as mentions of Nicki Minaj and Dolce & Gabbana. I also may fight Hanna for Caleb now that I know his affection for
Goonies
.
It's always fun when a show tosses out pop culture references. It makes it feel fresh and modern, even realistic. This is how people talk, after all.
Of course, jokes about Britney Spears' touring partner were far from the only development on "The Devil You Know." My hands hurts from scribbling down so many notes, but let's go over what we learned on the episode and how it might affect the near future:
We know what Jason did last summer. Or at least someone claims to. While Alison's brother has seemingly gone from shady to sympathetic overnight, his conversation with Aria shed lots of light on Jason. But is it murderous light? I say no. Still, it will be interesting to see how he reacts when he learns that Ian was innocent.
He wonders if his parents think they lost the wrong kid?!? Ouch. Can you imagine having that thought in your head?
What's up with Mile? Nice call back here to those garage break-ins. I often fear that PLL is throwing so much out there that there's no way it can answer every question. It came through here, while expanding Mike's role.
Is this the end of Aria and Ezra? Don't bludgeon me, Azra Shippers, but Aria is just really immature. Or she's just really 16. Either way, these two should not be dating. She couldn't wait at his apartment a few weeks ago and got mad because he was at a meeting that decided his future employment. And, here, she can't seem to understand why introducing himself as her boyfriend, to her parents, prior to a funeral, would be inappropriate.
Can anyone say Jaria? Or Arson? I'd like to see Aria move on to someone her age.
On the flip side of the maturity coin, we have Spencer. Loved her speech about moving on from the past and focusing on those who are still here. But I wonder about the inquiry she posed at the end of the hour: Why would A help us when we know A ultimately wants to hurt us?
Do we ultimately know that, PLL fans? Isn't there a chance, just some chance, that A is on the girls' side?
Matt Richenthal is the Editor in Chief of TV Fanatic. Follow him on Twitter and on Google+.