No offense to Atlanta, but Robert Kirkman is excited to be out of that city.
Speaking about season two of The Walking Dead prior to his show's panel discussion and press room at Comic-Con (return later for TV Fanatic's rundown of each!), the creator told EW:
"It's very rural. You're going to see a lot more woods. One of the main set pieces is this farmhouse. It's going to be pretty awesome, like an Andrew Wyeth painting - with zombies."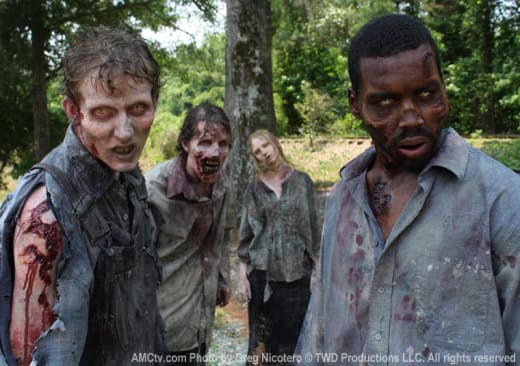 Aside from a different location, Kirkman says we'll see a new side to the survivors, an especially desperate one, as teased by Rick using a rock to take out a few monsters in this clip.
"We're going to see them run short on pretty much everything this season. It's going to be a desperate season for our cast. Ammo, food and supplies are going to be scarce, which of course makes it much more fun."
What is one final tease the creator can reveal?
"We've got a tremendous amount of tension between Rick and Shane, with them butting heads. We've got Maggie Greene introduced, who's a potential love interest for Glenn. We'll possibly be seeing some romance. I think romance and zombies go well together."
UPDATE: The Walking Dead will premiere on Sunday, October 16.
Matt Richenthal is the Editor in Chief of TV Fanatic. Follow him on Twitter and on Google+.