Bones Creator Sheds Light on New Season, Avoiding "Curse"
Steve Marsi at .
Hart Hanson has been around long enough to know that he was taking a big risk with the Bones Season 6 finale and the game-changing events that will follow.
He also felt he had to avoid the Moonlighting curse at any cost.
By circumventing what some think of as the best part of TV couples who finally get together - actually seeing them get together, and being a couple - Hanson believes he's avoided any chance of the show's trademark Booth-Brennan dynamic growing stale.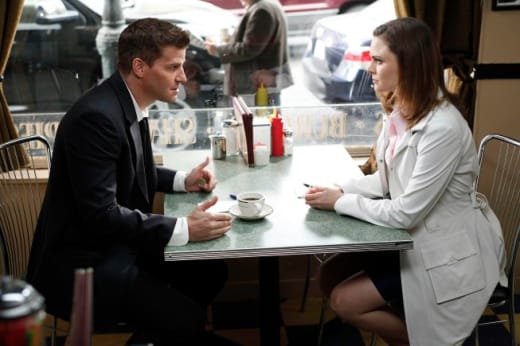 Says Hart in an interview with EW:
"I really feel like we got to jump the part where the curse could get its teeth in. I always thought that the Moonlighting curse was when two people have sexual tension and then everything's [suddenly] fine and the world looks the same."
"What do you to then? We don't have that. The world does not look the same," he adds. "They got together and we get to start again from a different place."
That said, he says fans will NOT be disappointed by what's to come this fall, and that some of the blanks - such as the
lack of love scene
- may be filled in yet.
"I want everyone to tune in to see that. I don't want to say it's going to happen, but I do believe people will be pleased with what they see," the creator says with a smile. "I think the first images of the new season will explain a lot."
"I don't want to blow anything big here, but people will be as interested and excited as [the creative team is] in where all these characters are."
Bones returns Thursday November 3 on Fox after the end of the World Series. For more on what's to come, check out these Bones Season 7 spoilers.
Steve Marsi is the Managing Editor of TV Fanatic. Follow him on Google+ or email him here.