After teasing us in the opening credits for five years and four seasons, Jaime Paglia and his team finally delivered an episode where buildings and objects in downtown began to float in "Up in the Air."
This was one of the funniest installments in awhile, with the pinnacle being Carter's "Someone put her in front a a cartoon!" when Holly said he could lick the safe-deposit boxes if he wanted to, but it would be weird. It had me laughing to the point of tears.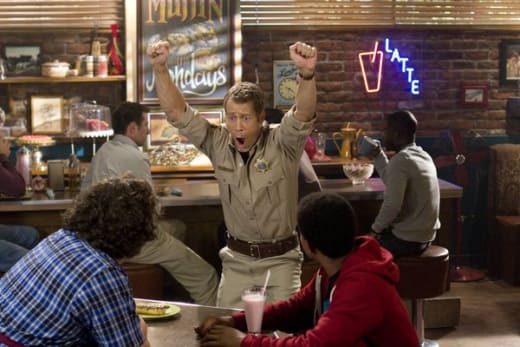 On top of the awesome dialogue, we had Colin Ferguison's physical humor. I don't know if Ferguson has been practicing his pratfalls or if he spent the last few months watching reruns of Three's Company, but when he turned on the gravity generator, the way he went down would have made John Ritter proud. 
Nestled in among Carter's antics was Lupo doing her best Marine Drill Instructor routine for the physical fitness training. Perfect flow and humorous insults all around.
These scenes were also a cute reminder of how Lupo was in the first season when she was just a gun-toting ex-jarhead. They made for a nice contrast to the well rounded person she is now. 
Is there anyone who doesn't think Felicia Day is absolutely perfect as Holly Martin? Day has always played the adorably quirky character well. However, Holly feels like it's completely natural. It's like she's a missing family member from GD. We really needed Dr. Martin, the bridge between Carter's non-tech goofiness and all the big brains. I really hope the powers that be take notice of how well she fits in and can encourage her to stick around for another season... or two... or three. 
In contrast, while I enjoy Will Wheaton as Dr. Parrish, he's very one dimensional. Parrish doesn't feel any different than his other characters, such as Colin Mason from Leverage, Fawkes, from The Guild or even himself as he faced off against Sheldon in The Big Bang Theory.
The only real drama this week came from Allison having time gaps and memory loss. While I knew Beverly was behind it, I didn't see the twist coming that Beverly has been controlling Allison complete, or at least took over complete control recently. 
Clearly Beverly wants something from GD (when doesn't she?). Time will tell what that is and if she gets it. I wonder if we could send her to Titan to stay! 
I'm really looking forward to seeing how things begin to pan out for the Astraeus Mission and, of course, to my new favorite couple - Jo and Zane - in the next few episodes. 
Jim G. is a TV Fanatic Staff Writer. Follow him on Twitter.