"Fry Am the Egg Man" wasn't one of Futurama's best episodes.
The only jokes that made me laugh were the fast food restaurants having cheese fillings for everything and the amount of drinking that went on. But the monster really wasn't that entertaining, nor was setting him free in his home planet.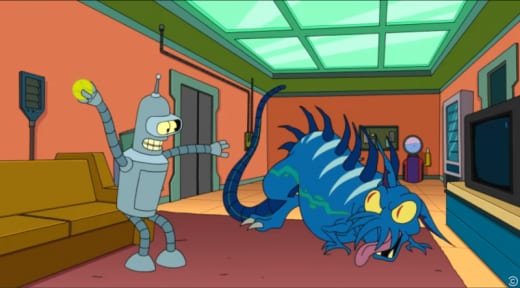 I was trying to figure out if there was something poignant about the episode. Was it commenting about the cyclical nature of how we get our food? Even if it's organic, that doesn't automatically make it good for you.
In the end,
if
there was a message, I didn't really end up caring because most of the jokes weren't very good. There were a few good ones, mainly Amy comparing the monster to Zoidberg and Fry's montage with the monster.
Hopefully Futurama can do better next week.
Check out some of my favorite quotes from the episode below:
Fry: I'm scaroused. | permalink
Fry: Leggo my Eggo Crabbo! | permalink
Leela: Killing it seems like a hassle. | permalink
Leela: Killing it seems like a hassle. | permalink