Let's consider the lessons learned on "Picture This," shall we?
Ezria is in serious trouble. Note to all women: it's never a good sign when you jump your man and he stops to wonder if you should be doing this. Or later, following another hot session, he asks if anything is wrong.
Aria may have done the right thing and pulled away from Jason's lip lock, but she and Ezra are in a bad place regardless.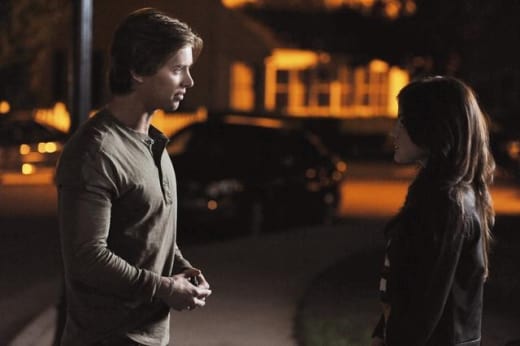 Emily is an idiot. First, can she - and all Liars, really - please stop asking why this happens or who is responsible for that? It's A. It's A. The answer is ALWAYS: It's A. That's my biggest beef with the show. Anything and everything can happen, with no explanation needed because A simply did it. Somehow.
But back to Emily in particular: she really couldn't have come up with a better way to get her number to Zoe? Say you need help with homework. Offer up more poker lessons. Whatever. Or, yes, tell Samara the truth about A. Why not? You're already being stalked and threatened. Bullies only respond to action, girls. Stop sitting around and letting A control your lives. Fight back.
Aria photographs well. It's definitely creepy that Jason has been snapping all those pictures, actually far creepier than anything A has done recently. But, darn, Lucy Hale is beautiful!
Does anyone actually think Jason is a bad guy, though? The show has drawn out that possibility for so long that it seems impossible to believe it will actually be the outcome. These are feel like Toby-esque red herrings and we'll eventually discover he means well and the information he blacked out will actually hurt Jenna - as she hinted at the end - and not himself or any of the girls.
Byron had a troubled brother named Scott. Well... okay then. Sorry, dude. Everything with Mike still feels random.
Hanna and Caleb are totes in love! Granted, this was sweet. I don't wanna come across as a major cynic. But the entire storyline with Caleb's mother was incredibly rushed. One moment he's lamenting her new family and her absence, the next moment he's on a plane - that night?!? - to be with her? It came across like a forced way to have these two drop the L bomb and to create tension in a relationship that suddenly was going too well for the show's sake.
All that said, props to Hanna for calling her dad. A major sign of maturity right there.
What did everyone else think? Are you on Team Good or Team Evil for Jason? Should Emily just open up to Samara? And will we ever see Melissa again?!?
Matt Richenthal is the Editor in Chief of TV Fanatic. Follow him on Twitter and on Google+.