Is there any doubt that ABC Family has another hit on its hands? After just the series premiere of The Lying Game, I'm already itching for more.
First, major props to the author behind the series, Sara Shepard. Her other novel series spawned Pretty Little Liars, another favorite at TV Fanatic.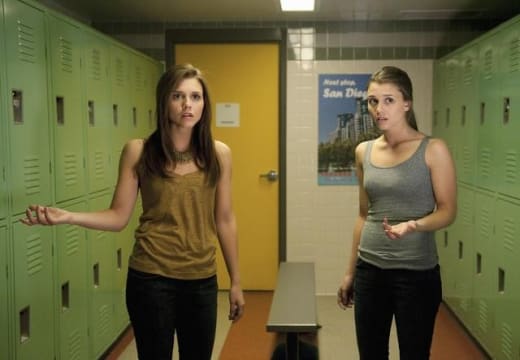 Next, let's all appreciate the adorable Alexandra Chando for playing both twins, Sutton and Emma. You know audiences simply can't resist an actress who can handle portraying two roles at once. (Nina Dobrev on The Vampire Diaries, anyone?) Chando, particularly in the locker room scene above, gave off a serious old-school Mischa Barton/Marissa Cooper vibe. Before that actress and character started sucking, that is.
As for the actual episode...
Two identical sisters are dealt two very different hands in life. Emma is an orphan who got passed from foster home to foster home. Sutton is a charmed teen who got adopted by a wealthy family in Arizona. When Emma can no longer stand her current living situation, she sets up a meeting with Sutton. Only the arrival isn't quite the reunion she imagined, as Sutton immediately convinces her to trade places, so she can follow a lead on their birth mother.
Emma has limited options, considering she was running from Social Services. She reluctantly agrees. With new clothes and a new car, she heads off as Sutton. Sutton, meanwhile, tells her that everything she needs to know is on her laptop. Too bad a burglar swiped that at the conclusion of the pilot.
Emma handles the transition awkwardly, but fairly well, given the circumstances. After all, Sutton tells her it would only be two days until they could switch back... but then she fails to show up. The closing shot depicts Sutton on the receiving end of a surprise attack. But from who? Hello, mystery number-one!
Sutton also insinuated that her parents did something horrible and know more than they lead on about her adoption, just providing one of moments that left me scratching my head for more answers. Such as: Who can Emma trust now that she can't reach Sutton? Which adorable guy is actually Sutton's boyfriend? What more do Sutton's parents know?
If the mark of a good show is when it leaves you wanting more, The Lying Game definitely accomplished that goal. I'll be tuning in next week for sure. How about you?