Hawaii Five-O Review: "Ua Lawe Wale"
Jim Garner at .
Ua Lawe Wale: Taken without right.
The second offering of the season helped us fall back into the familiar rhythm with Five-O, as Steve and the team investigated a girl who was "Ua Lawe Wale."
What happened to Lt. Commander Joe White? There was no mention of Terry O'Quinn character that appeared last week to help Steve get his unit back together, despite the heavy advertising push by CBS.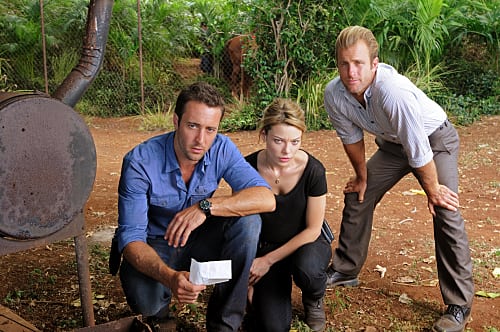 In other news, who expected to hate Detective Lori Weston as the Governor's watch dog? Now, raise your hand if you really liked her by the end of the episode? Okay, good. Me too.
I'm not going to jinx her and say she should be a full-time member, but I will say she brings a very nice element to the team with her background.  It doesn't hurt for Five-O to tap into some of the other CBS shows out there and pull in an ex-FBI profiler. Hey Steve, I hear Gina Lasalle's profiling team was disbanded; maybe you could give her a call if Lori doesn't work out. I'll vouch for her. 
Lauren German brings a very sultry mix to the table. From having her hair up when it's "go time" and kicking ass, to having her hair down and looking alluring walking into the office, she actually reminds me a lot of Melinda Clarke (Amanda on Nikita) with her ability to be sexy in almost any setting. (Need an example? Raise your eyes.)
I'm really curious where they are going with Kono. First, she walked into her house where the Captain of Internal Affairs was flipping through her yearbook. Then, if that wasn't creepy enough, he turned around and ended as the ultimate Haole: Tom Sizemore.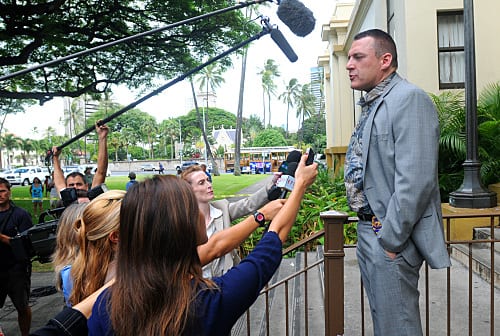 Don't get me wrong, I like Sizemore's work. But from Steve and Danny, to Lt. Governor Sam Denning, and now Sizemore, we haven't had one Hawaiian native in charge of any high profile departments.
I'm sure if we put our minds to it, we could suggest half a dozen actors who are (or appear to be) Samoan that could have played the hard-nosed Internal Affairs Captain just as well as Sizemore. Dwayne Johnson, anyone?
It's going to be interesting to see where Kono's path takes her. Now that she has been completely ejected from the police force, Five-O and the State prosecutor is taking the case to move forward, she has some work ahead of her. But she has a strong family (Steve, Danny, Chin Ho, to name a few) and she could come out of all of this a stronger person.  
Finally, we had the departure of Jenna Kaye, who I just knew the entire episode was going to be discovered as the traitorous bitch she is before she left. Sadly, I was wrong. But after she mentioned her fiancée might be alive, it made me wonder if she was blackmailed into helping Wo Fat. I'm sure this is not the last we have seen of her. 
What did you think of the episode? Did you miss O'Quinn? Did you like Lori Weston? Is there someone else who should have played Captain Frye?
** Check out the official Hawaii Five-O promo for next week's introduction of Billy Baldwin now!

Jim G. is a TV Fanatic Staff Writer. Follow him on Twitter.