Revenge may give me something I didn't realize I'd been missing: A glamorous drama with rich, beautiful people in a gorgeous setting looking to do one another harm. The show harkens back to the prime time sudsers of the 1980s and I think I'm going to enjoy the ride.
Emily Thorne is a beautiful, wealthy, young woman with a mysterious past. When she was a child, her father was framed by some very powerful people and ended up dying in prison. Emily, or actually Amanda back then, was sent to social services and must have had a rough time of it because we later see her getting out of some type of juvenile detention center.
In an added twist, her father was able to leave her with a fortune, which gives her the means to change her name, move back to the Hamptons, and seek her revenge on the people involved in destroying her dad.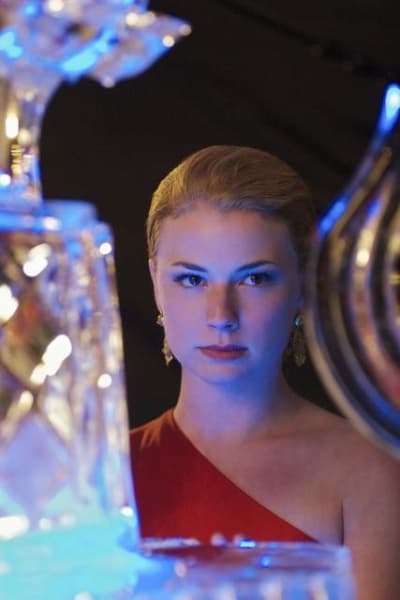 Emily VanCamp really sells this show. If she were too cold we wouldn't care. If she were too sweet it wouldn't seem plausible. But Emily is a delicious combination of innocence and evil. She's hunting. And in the pilot she sets her sights on her prey and takes one down.
How many people are on her list? Hard to tell just yet. Certainly Victoria and Conrad Grayson, who seem to be the masterminds who set up her dad. Then there's his former secretary Lydia who testified against him.
Emily manages to out Lydia's affair with Grayson and make sure she loses her home and standing in the Hamptons, all within the first episode. One of my favorite scenes was watching Emily artfully let it slip that she saw Lydia and her sick "husband" at The South Fork Inn."
The look on Victoria's face as her best friend's betrayal sank in was wonderful and she somehow managed to privately send Lydia packing in a very public setting. Oh, and is The South Fork Inn a sly nod back to Dallas' Southfork Ranch? Either way, the reference made me smile.
There were some other interesting moments here. Nolan knows Emily/Amanda's secret. He's wealthy and powerful but doesn't fit in with this crowd. He could be Emily's one ally if she doesn't freeze him out. 
Then there's her childhood friend Jack, who might not recognize old pal Amanda all grown up but his dog (formerly hers) certainly does. A few well placed doggie kisses and it took all of Emily's self control to not give away her secret.
The women were the powerhouses here and I'm hoping the men step it up a bit as the show progresses.
As the story's told via flashbacks, we learned that Emily's engaged to Victoria's son Daniel. Is she in love or is it simply part of her plot? Of course, Daniel ends up shot on the beach during their engagement party.
Did Emily set this up? Is her plot for revenge more serious than fortunes and reputations? Is she willing to kill to get her pay back? An eye for an eye, as Victoria may lose a beloved family member just as Emily did years before?
Given the small scene shown here it's hard to tell. Emily didn't give much away. Was she in shock or simply relishing the next step in her plan?
Revenge may not be for everyone. It could be too soapy for some, but I liked how unapologetic this show was about that. This is a continuing drama about sex, lies, greed and revenge. What more do you need to make entertaining TV? And what goes down next week? Check out the official Revenge promo for "Trust" now.
C. Orlando is a TV Fanatic Staff Writer. Follow her on Twitter.