This was the first season premiere of The Office without Michael Scott, and, simply put, that is not a good thing.
"The List" did a lot of things well, but at the end of the day Steve Carell created such an iconic character - with an aura that will be extremely difficult to replace - that there's really no way to compete with what The Office once was.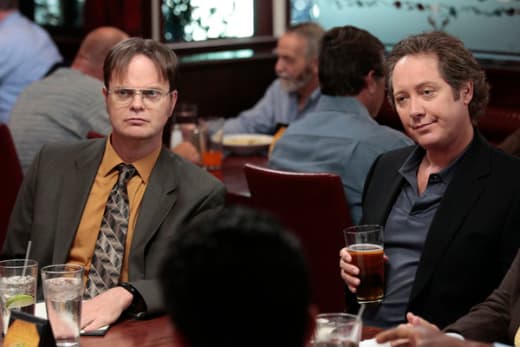 It's a new era, but it's one that still has promise. Andy Bernard was a great choice as the new regional manager. Let me clarify: Andy was a great choice by the people of The Office because he is similar enough to Michael that the fabric of the series won't have to change all that much, but he's also different enough that it won't be all repeats stories... like it might have been with Deangelo Vickers.
On the other hand, Andy was a terrible choice as regional manager for Robert California. The dude put losing their biggest client as number-three on his to do list!
In his lone appearance of last season, James Spader's California was straight forward and insanely creepy. To start off this new season he was just as up front, but definitely dialed back in insanity, which strangely diluted the humor of the man.
There is still a ton of hope for Spader to turn California into a great character. Making the list that this episode got its title from, and then blatantly favoring the members of the office on said list, is absolutely the kind of favoritism and degradation and I can get behind in a CEO of Sabre.
At the end of the day, though, it's the auxiliary characters that we know and love that will keep me laughing week in and week out. Highlights from the premiere included Kevin's warning signal, Stanley's new "shove it up your butt" thing, Dwight upping his martial arts schedule to the point he's doing Krav Maga four times a week, and Ryan pointing out the fact that him being a right-sider should make the rest of the losers feel better.
Even though I will continue to miss Carell every time Thursday comes around, I have faith in these writers to come up with enough gags to keep The Office on the left side of that big piece of paper we're all doodling on.
Before you go plank underneath the urinals, take a look at some of our favorite quotes from "The List." Don't forget to check out all the best lines at our The Office quotes page.
Erin: Planking is one of those things where, hey you either get it or you don't...and I don't, but I am so excited to be a part of it. | permalink
Stanley: It might be easier if you take a deep breath, lift from the knees, and shove it up your butt! | permalink
Dwight: Pam, come on. Don't be such a right-sider. | permalink
Ryan: Not to point out the glaringly obvious, but doesn't the fact that I'm in this group make anyone feel just a little bit better? | permalink
Andy: Just to show you I'm being fair, you had Gabe in the losers column...I think that is astute. Good call. | permalink
Dan Forcella is a TV Fanatic Staff Writer. Follow him on Twitter.