After weeks of hype, the series premiere of The Playboy Club aired on NBC tonight.
Tonally, Hugh Hefner's narration was slightly off-putting... even though I loved the The Girls Next Door and got a kick every time the Bunnies headed for the mansion. But Hef is so darn old and this show was meant to feel fresh and young. Or so I thought.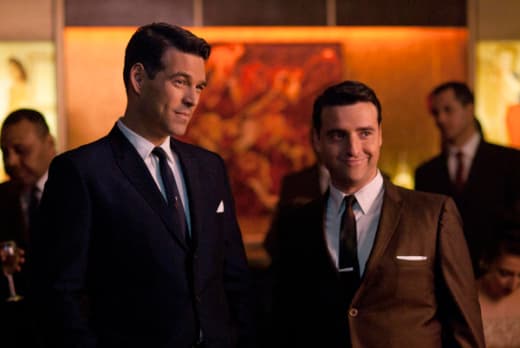 We learned straight away that Nick Dalton was an important member of The Playboy Club. He not only had bragging rights to the first Bunny, but planted his eyes on the new cigarette girl, Maureen. Is it me, or does cigarette Bunny seem like one of the worst jobs in the establishment?
A pity that Nick, running for State's Attorney, was impatient and needed his smokes so badly. This lead him to the scuffle between Maureen and some bald dude who turned out to be mob leader Bruno Bianchi. Together, they took Nick down, setting the stage for our story to unfold.
Looking at the set decor in Nick's apartment made me want to shoot down to Ikea as fast as I could. Outside paying megabucks for antiques, it's the closest I'd ever get to living that life. Generally, the set felt a little too modern and too polished for my expectations.
The show needs to be a bit more fastidious in its portrayal of the time period. I wasn't swept into the 60s as I should have been, and that could prove problematic to the overall acceptance of the show. Face it, the early 60s were somewhat gaudy, and to leave that behind is to lose some of the glamour that The Playboy Club provided to the average man.
It was an interesting contradiction to see what men considered sexy then compared to what they do now. The underwear the ladies wore in the dressing room was large, covered everything, and was adorned with garnishments such as garters. In comparison, today's panties are barely more than an eye patch and a piece of floss. Wow, how times have changed!
When Carol-Lynne quit her duties as lead Bunny to take over as a house mother of sorts, she immediately made the uniforms a bit more skimpy. It must be easier to see other women wearing less than it is to do it yourself, huh?
I'm not sure where the show will go from here. Will it head in the direction of more political intrigue or more Bunny life? I'm hoping for the latter, but fear I may be disappointed.
We've seen mob pieces done to death, but a real in-depth look into the girls who started the Playboy empire, who and why there were there, piques my interest far more than Nick Dalton's race for State's Attorney.
I'm sure to catch some flack for this, but the gay agenda meeting was out of place in the first episode. We need time get to know the Club and characters before we start revealing all their secrets. It felt like it was there to pointedly not leave homosexuals out of the Playboy phenomena. Unfortunately, at the time, there were some cultural developments that simply left some folks out.
Once the show has found its footing, it can take on the world. But let's explore the Bunnies more first; I don't want another Swingtown on my hands. The series must prove that it has more to offer than sex and then it can dig into the politics of the generation. All in good time.
Some casting thoughts:
David Krumholtz as the Manager of the Club gets to play smarmy, something he does well, but was free from for years in his role on Numbers.
Laura Benanti, who plays Carol-Lynne, is completely distracting due to her striking resemblance to Lisa Edelestein.
Shockingly, I wasn't thinking of Leann Rimes the entire time Eddie Cibrian was on screen. He hasn't succumbed to total tabloid fodder!
I'm excited to see Wes Ramsey land a regular role on prime time. He's been a soap staple and deserves a big break. I'm keeping my fingers crossed for him.
What did you think of The Playboy Club? Did it hold your attention? Sound off now!
Carissa Pavlica is the managing editor and a staff writer for TV Fanatic. She's a member of the Broadcast Television Journalists Association (BTJA), enjoys mentoring writers, wine, and passionately discussing the nuances of television. Follow her on Twitter and email her here at TV Fanatic.