If ever there were an ideal companion to The Vampire Diaries, it would be The Secret Circle.
This makes perfect sense, of course, seeing as both shows are based around L.J. Smith novels, but it's never clear how a book will translate to the big screen. Based on the series premiere, however, I can safely say: so far, so mysteriously, enjoyably, attractively good.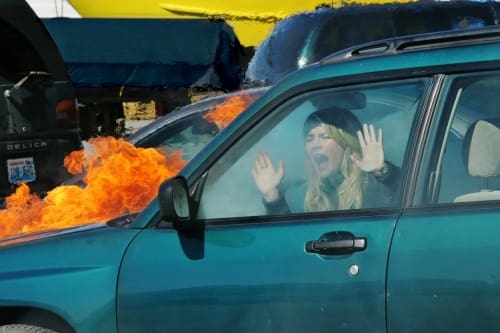 Like its predecessor on The CW, The Secret Circle focuses on teens that wrestle with their abilities and their relationships, whether the latter is the result of a supernatural skill set that brings students together, or typical feelings of young love. What did I love about the premiere? What would I change? Where might it go? All good questions...
THE GOOD
The opening five minutes
: Now
that's
how you kick start a series! In just a couple scenes, we learned a lot about Cassie (she can change her own tire, she's independent, strong-willed, close to her mother); were introduced to Charles as a villain; and had the stakes immediately raised via a fiery murder.
Britt Robertson as Cassie: No surprise to anyone who watched Life Unexpected, but Robertson is simply a great young actress. She can play vulnerable, tough, funny. Yes, we're only an episode in, but it's already difficult to imagine anyone else in the role.
Phoebe Tonkin as Faye: We're looking at a breakout star here, as I told the actress at Comic Con. (No, I'm not just saying this because Tonkin is a TV Fanatic.) She's simply a hoot on the pilot, clearly having a blast in the role of Faye, the one young witch who has no qualms about using her powers. Isn't that how most 16-year olds would react, after all? It's important to have someone measured, such as Diana, around, but we also need that maturity to be balanced by a wilder, more fun-loving card.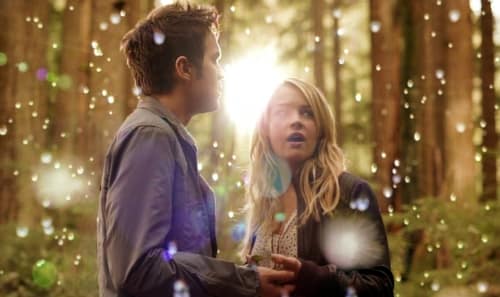 The inter-generational war: Easily my favorite aspect of the premiere. Unlike other teenager-based soap operas (I'm staring at you, 90210 and Pretty Little Liars), the adults are not merely around to join their children at the dinner table. There's a rich, meaty past here, as something happened 16 years ago, some "accident" occurred and many deaths took place as a result.
Cassie's mother skipped town afterward, Nick lost both his parents, Cassie's grandmother is afraid of history repeating itself and Dawn and Charles are up to... something. The Circle will take care of it without knowing it. Huh? I love it. I'm totally on board.
The love triangle: You've gotta have a love triangle, right? What makes this one different from many others on TV is that Cassie isn't simply attracted to Adam for his looks or even his personality, although both are appealing. Fate is somehow at work here, which looks to be an overriding, intriguing concept on the show. What happens when you mess with destiny?
THE BAD
Witch overload: This is certainly no fault of the show itself, but viewers might simply be sick of witches. They were featured on season four of True Blood, Bonnie plays a key role on the series that precedes this one every Thursday night. Scenes such as the one above, of the coven displaying its abilities, might come across as less impactful, considering how often we've seen similar examples on other programs.
I don't feel this way, I think it would be a mistake for others to feel this way (consider how many crime procedurals are out there, or legal dramas; a good show is a good show is a good show, regardless of subject matter), but it's a conceivable reaction for some viewers.
THE FUTURE
I've already hinted at many of the mysterious laid out in just one hour, but they're worth repeating here. What was the accident? What role did each member of the older coven play in it? What do they want with Cassie? Who is coming to town? What secret is Melissa hiding?
There's little doubt that The CW has another hit on its hands with The Secret Circle. A talented, young, good-looking cast. The potential for flashbacks, new characters to arrive, supernatural mysterious to unravel. We've seen this before, haven't we? Who else is excited to settle in for two hours of it every Thursday night, all season long?
Matt Richenthal is the Editor in Chief of TV Fanatic. Follow him on Twitter and on Google+.