90210 Exclusive: Jessica Lowndes on Adrianna's Number-One Goal
Matt Richenthal at .
Jessica Lowndes knows what many fans think of her character on 90210. She's well aware that some viewers might believe it's impossible to redeem Adrianna, considering what the actress herself describes as the "very dark, intense" path she went down on season three.
But just keep watching, Lowndes told me over the phone last week. Adrianna has nothing but pure intentions going forward.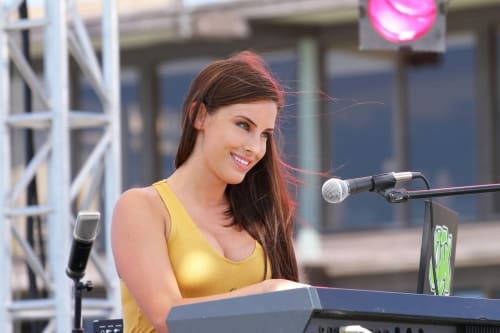 "She has an addictive personality and she just lost it when she lost Navid," Lowndes said of Adrianna's downfall. "She truly couldn't imagine life without him."
But this year?
"She really is sorry. She feels terrible. Her number-one goal is to earn back the trust of her friends, especially Silver."
How will Adrianna go about fulfilling this apologetic mission? Look for the character to pick up a microphone again on this week's "Benefit of the Doubt," belting out a single titled "Fool," which is actually a track sang by Lowndes herself, marking her first-ever iTunes release.
"Last year, Adrianna was too fame driven," the actress says. "She wasn't really about the music. But this year it comes from a truthful honest place. The lyrics will really hit Silver."
Still, might another obstacle get in the way of a Silver/Adrianna friendship? Rumors of the latter getting very close with Dixon have heated up over the last few weeks, a coupling Lowndes neither confirms nor denies. Well, she sort of confirms it.
"He's struggling with addiction and Adrianna is an expert in that department," Lowndes says. "They also share a bond going back to last season because Dixon used to date Silver, and Adrianna dated Navid, and then those two got together. So that connection draws them close."
To keep up with this 90210 star, follow her on Twitter. And to keep up with 90210 in general, visit TV Fanatic every week!
Matt Richenthal is the Editor in Chief of TV Fanatic. Follow him on Twitter and on Google+.