In a recent interview, Ryan Murphy said he insisted American Horror Story premiere in the fall because he wanted to air a Halloween special.
And, following the latest freaky episode of this ever-engrossing thriller, I'm very glad the creator got his way.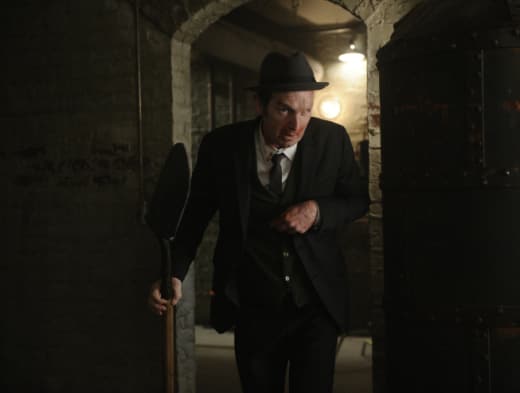 Equipped with the ideal platform of a holiday dedicated to the walking dead, AHS threw a ton at us this week. But it somehow all worked. It all flowed in its own weird, ghostly way, as this drama eases my initial fear more and more every week: there really is a story here, one centered around a seemingly hopeless marriage. The haunting images and events simply add to it.
Let's start with Zachary Quinto's debut as former home owner Chad. The actor, who has remained off the small screen since the cancelation of Heroes, made me scared to ever purchase Gala apples again.
He and partner Patrick were perfectly creepy and enjoyable, while also raising the question of whether the house has it out for couples in general. Does it want no one to live happily there? And, if that's the case, why does Chad adore the residence so much?
One thing appears certain: the home wants to add to its collection of babies in the basement.
Every time Vivien threatens to leave, or tries to throw Ben out, or does anything that makes it seem like she and her baby might live elsewhere, boom! Pain erupts. Very young fetuses kick. If hers even is very young, that is. Or if it even is a regular fetus. Couldn't Ben and Vivien have waited a few minutes longer at the hospital to see why the nurse reacted that way to the ultrasound?!? Sheesh! The door was locked at home, Violet was safe.
Not so for Addie, however. We can assume she's dead, right? Like really, truly dead, not American Horror Story dead. Constance failed to drag her over to the property in time, both raising a question and answering one: the deceased only come back to life if they perish in the home or on the lawn - but is Constance among them? She knows all there is to know about this other world, yet we've been given no reason to believe (yet) that she's an active part of it.
So Constance lost her child by accident, while Moira freed her mother from her slumber on purpose. The latter does seem to have crossed over, however, despite her death taking place in a hospital. Perhaps because it was initiated by a ghost? Even if that ghost is trapped in the real world, presumably due to her sins? But didn't Patrick, for one, also sin by cheating on Chad?
I really should stop trying to figure any of this out and just enjoy the crazy show.
Especially when this episode concluded in such an awesome way: greetings, ghost Hayden! What a suspenseful way to wrap up a fun hour that managed to up the creepy ante, offer a few vague answers, pose more questions and still give time to Ben and Vivien to deal with their serious, supernatural marital issues. I loved it.
I'll leave you with this poll question related to the episode and what we may have learned: Do you think Tate is Rubber Man?
Matt Richenthal is the Editor in Chief of TV Fanatic. Follow him on Twitter and on Google+.