Bones Producers Tease Best Episode EVER, Another Finder Crossover & More

Steve Marsi at . Comments
On a conference call today, Hart Hanson and Stephen Nathan of Bones teased the new season beginning next week (Thursday, November 3), as well as the return of The Finder and some other fun items.
First on the agenda? What to do with those four bonus episodes.
The seventh season was originally supposed to entail 13 installments due to Emily Deschanel's maternity leave, but when Hanson and Nathan said they could make four more, Fox ordered them.
The question is when those extra Bones episodes will air.
"They do want to do ultimately 17 episodes, and how it airs is up to Fox," Nathan said during today's call. "They could air before what we consider to be our last episode even. We have no idea."
While plenty of Bones episodes are of the standalone variety - enjoyable, open-and-shut cases without heavy narratives or major character details that would cause continuity issues, it's still dicey.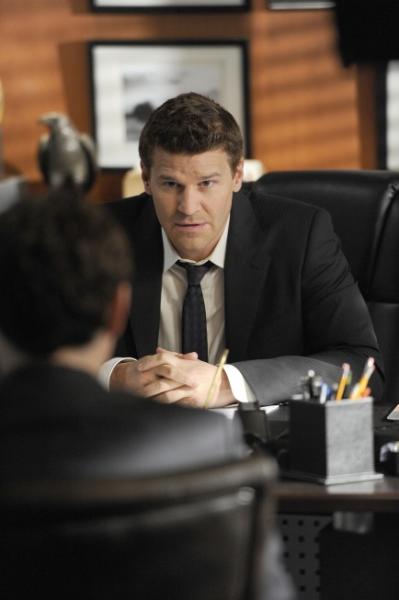 "We don't quite know where to pleae these four in our universe," Hanson said of the predicament. "If they air all in a row, it'd be odd because they would not contain meaningful character arcs."
Adding them in here and there during the season carries its own risks, as well. Hanson says that for now ... there's basically no answer, but he's confident Fox will figure this out in due time.
Things Hanson is more confident about? The upcoming episode with Booth and his grandfather, played by Ralph Waite (also Gibbs' dad on NCIS) "is maybe one of the best episodes ever." 
The show's creator calls it an "amazing performance by David Boreanaz" that he's dying for us to see, and he can count us among those excited to see this Booth-centric character arc.
As for the obligatory baby question, who's going to take care of it in the second half of this season while mom and dad are off ... you know, doing their Booth and Brennan thing in the field?
"We think we have a pretty good idea for who should take care of the baby," Nathan said. "That's after the first six [pre-hiatus episodes], but it'll be a lot of fun." Theories are welcome below.
Regarding the Bones spinoff debuting in midseason, John Francis Daley's crossover to The Finder isn't the only such event planned. Hodgins (T.J. Thyne) is also off to Florida to assist Walter.
Steve Marsi is the Managing Editor of TV Fanatic. Follow him on Google+ or email him here.