Harry's Law Review: Changes We Believe In
Jim Garner at .
Thank you, Paul McCrane! In a single episode, the actor restored my faith and enjoyment in Harry's Law. He directed "Queen of Snark" and also made a brief appearance as Puck, who is now a defense attorney.
Should this have been the season premiere? I can see that argument, considering the information presented here should definitely have been delivered prior to the three-week long opening arc.
I knew the moment I saw Puck that there was hope, and when Kim Mendelsohn (Camryn Manheim) turned up just a short time later, I was fully engaged and excited. That excitement peaked when Tommy walked past Adam. Or, sorry, "bug."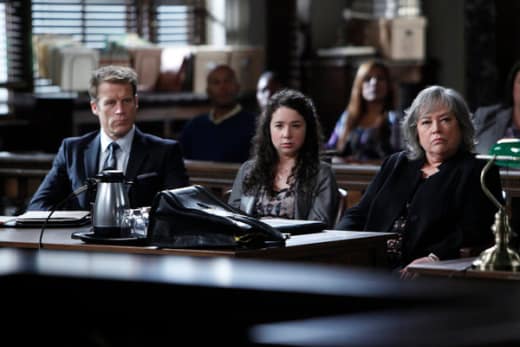 Speaking of Tommy, we may have seen a more tender and soft side of him during the murder trial, but he was back to his normal level of sarcasm, wit and third person references this week. When he printed the bill for Adam, after giving him advice on how to be a better lawyer, I had flashbacks to last season when he snapped the picture with Adam and printed it for him to take with him.
Corddry and McDonald have the potential to be this show's version of Laurel and Hardy; they play so well off each other. The latter's ability to deliver the fast one-liners makes you want to love Tommy. And hate Tommy. The former's prowess, meanwhile, to run off on tangents makes Adam the ideal chocolate mixed with McDonald's peanut butter.
We also got to see a feisty side of Cassie this week. A lot of us witnessed the potential during the murder trial, so it was quite satisfying when she turned and handed Ollie some candy and hushed him like a child. Then again, she was very subtle with Tommy, so now I'm interested to see where she goes. 
Adam and Harry did great job of discussing the frustrating elephant in the room: all this season's changes. I hadn't realized how much that simple acknowledgement of the differences would affect my willingness to embrace the new office, new staff and everything else that is a 180 from this spring.
Sadly, one of those changes was the exit of Jenna (Brittany Snow,) who is off to New York to live her dream of working in shoe fashion. On the flip side, we did gain Ollie as a full-time partner, much to Adam's distress.
Overall, I hope I'm not alone when I say how much I enjoyed this episode. It really felt like we got back enough of what was missing in the last few installment, and it makes me excited for the future of the show. NBC must feel the same way, as it has ordered six additional episodes.
What did you think of this week's offering? Do you think David E. Kelly and his team have found a balance of the changes?
Jim G. is a TV Fanatic Staff Writer. Follow him on Twitter.