We already knew that Bluebell, Alabama was filled with dirt roads and back roads. But this week on Hart of Dixie, Zoe proved it can feature a different kind of passageway: the high road. That's what Zoe took in her dealings with Brick and it paid off with a patient.
Indeed, "Gumbo & Glory" showcased Rachel Bilson's character at her snarky, professional best. She helped save a life, she joked to Wade about taking lives (You brought all your ex-girlfriend here? Were they still breathing?) and the show in general delivered its best episode to date.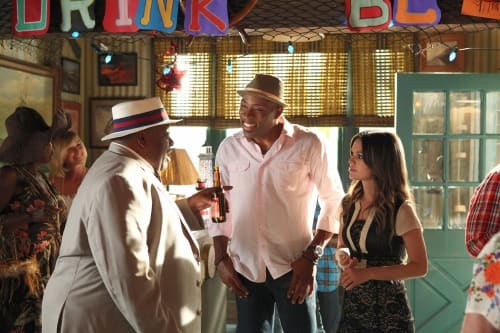 Aside from Zoe's sarcasm and struggles, this week focused on the growing, entertaining bromance between Lavon and Wade. Yes, I'm getting sick of that word, too, but how else would you describe this relationship?
The guys cracked me up over video games and beer, first trying to give Lavon practice with the ladies via a bit of role-playing (and let's bring the waitress back who intervened in this oncoming trainwreck, shall we? Like I said last week, the series could benefit from side characters.) and then trying to blast away their problems. But at too high of a volume. Could Wade turn it down a bit in case the phone rings?
Do I buy that an ex-football star would have an issue talking to women? Not exactly, especially not when that ex-football star possesses so much charisma, but whatever. Let's just take it as a personality quirk of Mr. Lavon Hayes. Maybe he's just better with alligators than with the opposite sex.
Wade is also growing on me, and not just because Wilson Bethel was a pleasure to speak with on the phone. They guy can cook a mean pot of gumbo and actually has more layers to him right now than George. We all like George, how can you not? But he's really nothing more so far than the overly nice, sort of whipped (more on that below) man Zoe cannot have. And, let's face it, ladies, there's always an appeal to wanting what you can't have, isn't there?
Wade, though? He's funny, he's got a bad boy quality to him and Zoe didn't exactly seem to mind last week's kiss, did she? We may need to hand out Team George and Team Wade jerseys (not "costumes," Zoe) to readers one of these days. (The promo for next week's episode will only help Team Wade's case. Yowza!)
But the one issue I take with Hart of Dixie is its Lemon problem. Brick may have been developed a lot more this week, along with his respect for Zoe, but the series needs to now work on his daughter. There's simply nothing appealing about Lemon Breeland. There's no reason to believe George would be engaged to her or that Lavon would still be pining over her. Give us something, writers. Show us that Lemon is more than a cocky, narrow-minded, cruel southern belle.
Granted, in all love triangles, the audience is typically cheering for one pairing over another. But we need to actually believe the alternate arrangement is possible, and not just a contrived obstacle to drag out our rooting interest, and I'm not seeing that between George and Lemon just yet. Not one bit.
I'll end this review on a positive note, however. Every interaction between Zoe, Wade and Lavon made me smile this week, especially when the latter was referred to as "Bridget Jones." There's definite potential in these relationships. Let's flesh out George and Lemon a bit, let's continue to have Gossip Girl and OC-esque parties and events and The CW really might have something here.
Matt Richenthal is the Editor in Chief of TV Fanatic. Follow him on Twitter and on Google+.