NCIS: Los Angeles Review: The Greatness of Hetty
Steve Marsi at .
It's not often (this may even be the first time) we've given a higher review to NCIS: Los Angeles than NCIS, but any episode in which Hetty goes into the field is a proven winner by default.
The days when some fans - myself included - skeptically wondered if Henrietta Lange would be a credible authority figure for the NCIS Office of Special Projects seem like a lifetime ago.
Linda Hunt commands every scene, from the serious to the banal, and we're seeing the show pivot lately in that she's become a focal point of more episodes, rather than on the periphery.
"Lone Wolf" showcased the Oscar-winner at her best, as expected.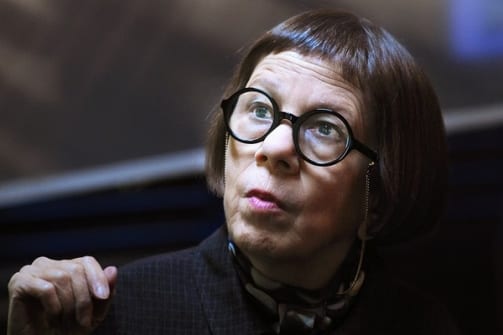 The scene were the agents realized Hetty's connection to the case via the photo was classic. She's an international woman of mystery. Is there anything about her that would surprise you anymore?
To solve the brutal murder of a Navy officer, it was up to the diminutive shot-caller to pay a visit to an unpredictable former colleague who the officer, now a peace worker, was currently working for.
In typical NCIS: Los Angeles fashion, the man's motives were ulterior and their scope international. The victim was led to believe she was helping rebuild war-torn Afghanistan, but that was a ruse.
Few things are sadder than operations like this disguised under the veil of philanthropy, but they are rampant these days, and it was an interesting type of case for the show to center on Tuesday.
After his lies unraveled, Hetty confronted her old friend and found herself very much in harm's way, but the team came to their leader's rescue once again, exposing the fraud for who he is to boot.
The ending was unusual to say the least. Hetty decided to repay Basser, with whom she has a complicated past (what about Hetty is not complicated) and who saved her life once, with a favor.
That "favor" is the chance to take his own life and subsequently avoid prison. Both Hetty and Basser did what they had to do and it made sense, but it was hard not to find all that a little unsettling.
Most of us would not be in such a situation, so it's impossible to even process it. Then again, most of us aren't shot at approximately 20 times per week either. These agents live in their own world.
Like Gibbs on NCIS, there's a parental aspect to the relationship between Hetty and the younger agents. She protects them, chides them and most of all, tries to help them realize their potential.
The entire cast does a terrific job of conveying these complex nuances on a weekly basis, shifting effortlessly between emotionally heavy material and the witty one-liners the show is known for.
All of this makes for a balance that keeps the show entertaining in the midst of whatever serious crime is occurring, and in spite of some disturbing plot twists. I can't recall a single bad episode.
The dynamic duos were in full effect as always, with Sam and Callen acting more like a married couple by the week, Deeks and Kensi flirting as only they can, and Eric and Nell pulling the strings.
NCIS: Los Angeles has hit its stride in Season 3 and we can only hope the pattern continues as we head into November. A few closing thoughts and observations before turning it over to you ...
As an avid birdwatcher I loved Eric's new red-throated loon call. Who knew Mr. Beal was a card-carrying Audubon Society member? I'd pay to see him take Nell birdwatching.
Deeks standing up Kensi at the airport, then hiding under the tapestry on the couch just to see her reaction, then offering to dry clean it after Hetty called him out? Hilarious.
Between Callen's wetsuit and Kensi stripping down in front of Deeks (not the only guy to have that reaction, I guarantee), there was gratuitous eye candy for all.
The fade-to-black quotes are always great, but this one? Wow.
Catch the brief reference to Kensi's Hawaii Five-O stint?
"You have longer legs." - Funny and true!
"Bacon is my friend." - Amen, Callen.
What did you think of last night's NCIS: Los Angeles? Discuss below!
Steve Marsi is the Managing Editor of TV Fanatic. Follow him on Google+ or email him here.