What do donuts, 'honeys' and Ed Lover have in common? Shawn, Lassiter, Woody, Henry and, of course, "Last Night Gus!" Hangovers have never looked this good, or been this funny. This Psych episode will be one for the all-time-awesomeness list.
Hats off to Andy Berman for one of best executed primetime spoofs we've seen yet of the popular movie. If you weren't laughing from the minute "Last Night Gus" started, well, you don't have a pulse.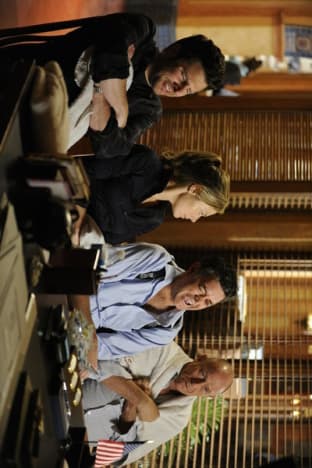 So let's start analyzing!
One moment that really stood out right off the hilarious bat was Shawn's massive freak-out moment in the coroner's office. It was a pretty self-reflective one. It really called my attention to the idea of what it might be like for Shawn to lose his gift. Who would he be without it? If his distressed plea to Woody, Lassiter and Gus was any indication, it seems Shawn was on the brink of a devastating realization that was just short of being fully realized.
If it had been, this episode would have lost the critical edge of outrageously unexpected hilarity. But it was thoughtful of Berman to squeeze it in there in a way that didn't feel forced.
It also appeared in this moment that Shawn was admitting to playing parlor tricks on young children, which surprised me given that Shawn and Lassiter had just had that moment last week with the lie detector test where they seemingly bonded over the ability to evade detection. I was surprised Lassiter didn't capitalize on it, except he was probably more concerned about getting his Ford Focus back. Who knew he'd given it to that couple? Or would jump out the window for it?
I love how at every turn, Carlton was paying someone an outrageous amount of money. He was quite the party goes... and he shot Bobo - repeatedly! Anyone get the feeling he might have been imagining the mascot as Shawn?
This said, props to Juliet for immediately getting in with her men on this case. I'd like to think her readiness to prove them innocent is an affirmation of the tight-knit team they are, even when new players such as Woody enter the ring. Of course, some of this has to do with Shawn, but there's also her commitment to Lassiter as her partner, which took center stage this time around. Besides, what more relationship affirmation do you need when you're almost blown to bits together? How killer was that action shot of them jumping from the balcony?!?
Then there was the underlying Shules tension in this episode. Who knew Shawn would drunk-call Juliet and ask her to move-in? How is it he's most mature when he's most vulnerable?
Love how she handled it, though. She understood it was the consideration that counted coming from Shawn, even if he wasn't ready to make good on it. The concept had to be reaffirming for the simple fact it meant Shawn saw them going long-term. Let's remember, while Abigail managed to get her toothbrush into Shawn's bathroom, Juliet is getting the upgrade to his home, consideration wise. That's relationship affirming coming from him.
Of course, no discussion of this episode would be complete without some attention being paid to the man after whom this episode was named, a psychic detective's best asset: Gus. He was a RIOT drugged. Not only was he a fan of squishy faces, but he couldn't stop laughing even after it was clear he was in the line of fire. Good forhim for finally catching up and saving the day, one taffy dish at a time. Plus, props on the upgrade on his digs... dripping with swagger and definitely not for anyone but a real player.
This episode was ONE HUGE best moment in and of itself; but let's pin down some key moments that need no introduction:
Ed Lover. Come on, Son!
Woody sharing random life tidbits.
Karen being distracted by Henry's lack of pants.
Gus asserting himself, much to the Chief's surprise.
That slow-motion shot of Woody, Gus, Shawn and Lassiter walking into the bar.
Are you ready to add this to your favorite's list? Because I'm about to buy this one off of iTunes!
As for next week - vampires anyone?
C. Charles is a TV Fanatic Staff Writer. Follow her on Twitter.