Two and a Half Men Review: "Big Girls Don't Throw Dog Food"

Eric Hochberger at .
Well, it's good to see Two and a Half Men taking advantage of its half man this week, with the first regular episode to air after the two-part season premiere introducing Ashton Kutcher's Walden Schmidt.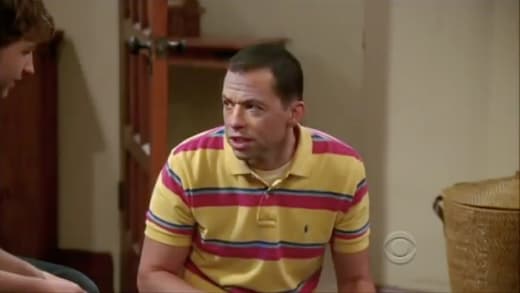 So was Jake, a live-in Berta, and an increased dose of Judith and Herb enough to make "Big Girls Don't Throw Dog Food" feel like a classic episode of Two and a Half Men?
I realize trying to compare this show to its Charlie days is going to get old fast.  But I feel like as the show's first episode after the premiere, I still must do so.
So I'm going to leave it as this: the scenes without Kutcher almost feel like the days of old. But the second you have an example like Walden's dinner date with Bridget, it feels like a whole new sitcom... just with the same name. And that's a tough thing to accept after putting in eight years with these people.
I want this show to survive because I still love the other characters. I was glad to see Jake back and I still enjoy his dynamic with his father and the potential blackmailing of Judith. That felt like old Men, complete with a clueless, goofy Herb.
But Kutcher character is so poorly written that the writers can't even decide/remember if he went to high school? Come on, did he skip it or did he have a high school sweetheart!? He still just makes no sense.
I'm not even blaming Kutcher's terrible acting. You can see any of his recent movies to judge that. I'm mostly complaining that Walden doesn't add up. One minute he's a moron who can't put on his shoes, the next he talks like a programming genius who dropped out of MIT.
It's one thing to be socially inept and a genius. We see that weekly on Lorre's other brainchild, The Big Bang Theory. But you can't both be a moron and a genius. Lacking street smarts and not caring enough to take care of yourself is one thing, yet talking and acting like a child with an on and off switch does not make for social awkwardness.
I'll keep saying it until they do it, but they need to continue to tweak Walden's character if it's going to work. That, or just remove him and let the rest of their cast do their thing. But since I doubt that's an option, please look at the geniuses on TBBT. There's got to be some material to borrow from there.
Oh, and will someone please get Kutcher a haircut? If he's going to be believable as the face of gay money, the guy should at least look the part.
Eric Hochberger is the programmer of TV Fanatic, so please forgive his mediocre writing. His programming is far better. Follow him on Twitter and/or email him. Just don't request threaded comments. They're coming.