I really didn't need the back half of my chair throughout this week's edition of American Horror Story... because I just sat on the edge the entire time!
Picking up so immediately after events from part one of this Halloween special, this episode actually backtracked for a few moments and reminded viewers of the precarious position Violet was left in last Wednesday night - and, from there, the entire hour felt like the tense final 10 minutes of a strong horror movie.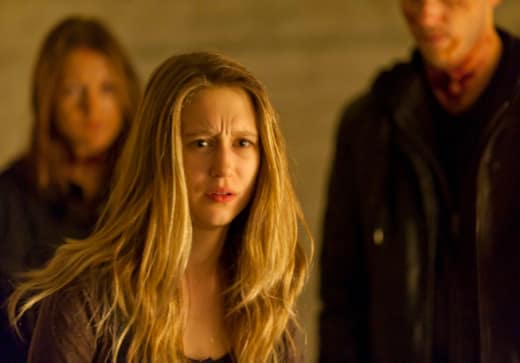 From Hayden's ghostly stalking... to the threats made by Tate's deceased friends/victims/enemies/who-the-heck-were-those-people... to Zachary Quinto going all Sylar on his former home's owner... American Horror Story scarcely let up for a moment.
But the show didn't just elicit screams and gasps, it answered questions. Most importantly:
Tate is Constance's son. Props to the readers who made this prediction. And the guy clearly has issues, seeing as he truly doesn't seem to recall acting out the Columbine massacre on those poor teens. (Yes, I'm assuming their beef with Tate is legit.). What else doesn't he remember? Is this why Constance insists he remain Ben's patient? To help with whatever mental block is affecting his apparition recollection?
The ghosts cannot leave the house. At least not for any extended period of time, hence why they all returned at the end of Halloween. What a fun, creepy scene this was, seeing past owners and maids, cheaters and murderers, congregating in the same spot, seemingly doomed forever.
The ghost of Nora wants to make up for her past sins. She untied Ben so he could save his baby. That was nice of her. She might have to do that kind of thing many more times, considering his dangerously abortive past.
Ben is a liar! Viewers weren't privy to the math before, but now we know: Ben knocked up Hayden AFTER he was caught with her by his wife. He lied, said it was over, slept with her again and... the guy just pretty much sucks overall. I'd have thrown him out, too. I'll take Rubber Man over Dishonest, Horny Man any day of the week.
And, hey, Vivien appears to have found a rebound already. That security guard, played by Morris Chestnut, was going above and beyond his required duties, at least in the way he acted toward this frightened, scorned, confused pregnant (with something) woman. And she didn't see to mind, did she?
Should we already start taking bets on whether the guy is human? Has ulterior motives? Is actually just a caring, responsible professional? HA! As if that was plausible on this show.
So another fun hour has gone by, one that stepped harder on the action-packed gas than any episode to date. We got more background on Tate and saw Constance in a sympathetic state. We might not many specific ideas about what's going on, but we know overall that many ghosts popular this house, some only come out at certain times, some are seen in different forms by different people and all are after... what, exactly?
Redemption? Revenge? A well-manicured front lawn? Who knows. Bring on next week!
Matt Richenthal is the Editor in Chief of TV Fanatic. Follow him on Twitter and on Google+.