Bones Season Premiere Review: A Hormonal Hit!
Steve Marsi at .
If you watch Bones for the gruesome body finds, the awesome science that makes work feel like fun, the witty banter and, of course, the romance, this evening's seventh season premiere did not disappoint.
After a sixth season finale that many fans felt was a major shark jumping, or were at least very confused by, creator Hart Hanson has redeemed himself and then some, as the show is back to normal.
It's just a newer, sexier, more familial normal.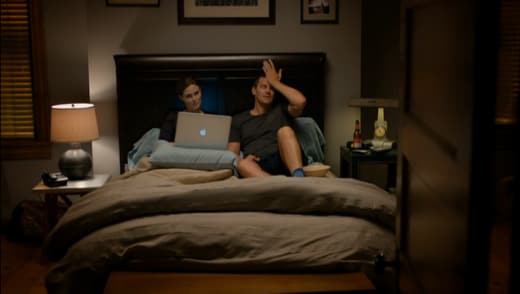 "The Memories in the Shallow Grave" is the first of six fall episodes in which Booth and pregnant Brennan prepare to raise their child, and picked up with Temperance five months into her pregnancy.
The question on all of our minds all summer was a simple one: Is this going to work?
Booth and Brennan have been thrust into full-fledged coupledom after all this time. How would such a massive shift in the show's dynamic presented? Would it be fun or forced? Would it feel organic?
I don't know about you, but I'd say very realistically, entertainingly, and yes.
It took all of two minutes for us to witness the new normal for B-squared. I knew instantly when I saw Booth making overtures toward pregnant Brennan in the kitchen I was going to like this season.
Bones may have jumped past some of the scenes TV shows would normally depict in bringing such a popular couple together, but it feels a lot less cheap after witnessing their interactions tonight.
Certain things have progressed: They kissed multiple times, and might have even done more than that had a case not fallen into their laps, while both spoke openly about their sexual relationship.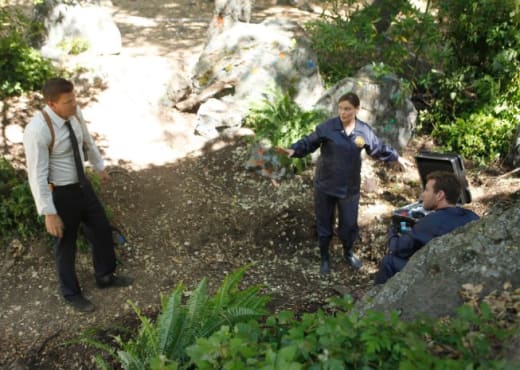 Brennan's also got a pic of Booth cooking naked, should she ever need embarrassing ammo. In moments big and small, their life together has evolved while remaining true to both characters' individuality.
That's also true regarding issues that aren't as fun, like figuring out where to live, or whether to get married. This caused a major rift between the expectant parents, and it felt very believable.
Brennan, not surprisingly, was the one putting up roadblocks to getting a place with Booth (and marriage, though that wasn't discussed in nearly as much detail), while he was completely for it.
This was the kind of thing so many of us struggle with in relationships, even with courtships more traditional than theirs, and the standpoints of Seeley and Temperance were both true to form.
With help from sidekick Angela (at her maternal best tonight) and Sweets (always there to prod Booth more than he'd like), they ended up on the same page, and not just because of the Iroquois.
Booth wants their child to have the stable upbringing he never had, while Brennan is struggling with putting a child, and a relationship, ahead of her career. But their priorities are definitely in line.
Rubbing the belly and reading real estate listings in bed is just the beginning. They're going to make it work. They should be able to afford a nice place thanks to her book advance, too. Who knew!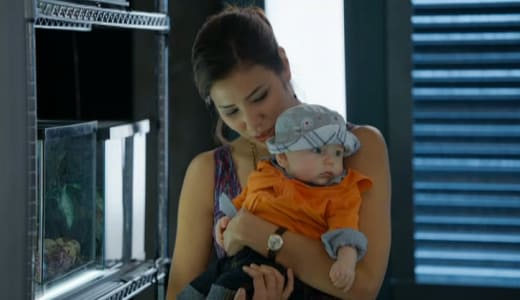 The seventh season premiere also treated us to the newest Jeffersonian team member: Angela and Hodgins' son! That bundle of joy won over Cam - and likely millions of viewers - within seconds.
The topic of who's watching little Michael while there's work to be done was addressed - on-site day care - and the couple appears to have a pretty sweet video monitoring system set up as well.
Hodgins and Angela struggle with relationship issues too, but as usual, they're the show's rock. Nine months ahead of Booth and Brennan's parenting timeline, they're already leading by example.
With the team members' personal lives taking center stage, the murder case felt like an afterthought, although it had its memorable moments for sure, especially in the episode's opening minutes.
The body find, subsequent eyeball gouging and beetle infestation were beyond hilarious and gross, clearly deserving of many high-fives in the show's writers room when they were conceptualized.
When the team identifies the remains of a woman found in a paintball field, they discover two Missing Persons reports in her file. Like Brennan in a sense, she was searching for her identity.
Booth, Sweets, Cam and squint Wendell Bray piece together the puzzle - bullet wound, inconsistencies in her medical records, a fugue state, and surprising crime spree - before nailing the killer.
Not the most compelling case in history, but far from the worst. It just felt secondary and almost distracting from the rest of the action, which is a testament to the episode's overall quality.
Overall, the premiere erased many doubts cast by the game-changing season finale in May, setting the stage for what could be Bones' best season to date if every installment is this strong.
A few of the most memorable quotes from "The Memories in the Shallow Grave" ...
"I can always count on you to assist me practically, physically or sexually." - Brennan
"I love you." - Brennan. "I know." - a Han Solo-esque Booth
"God is not a sociopath!" - Booth
What did you think of the Bones Season 7 premiere? Comment on it below!
Steve Marsi is the Managing Editor of TV Fanatic. Follow him on Google+ or email him here.