Wow. There is one thing I am sure of: When Castle does a heavy episode, it delivers. Following in the footsteps of previous installment such as those with 3XK - the series gave us "Cops & Robbers" this week, proving this is no longer a game for kids.
Going into an hour like this, you know that your lead character has to make it out alive. From the beginning to almost the end, I was a little worried Martha wouldn't make it, though. But she did, and we were also treated to some moments that us Castle/Beckett fans will hold on to for weeks to come. So let's waste no more time and get in to it...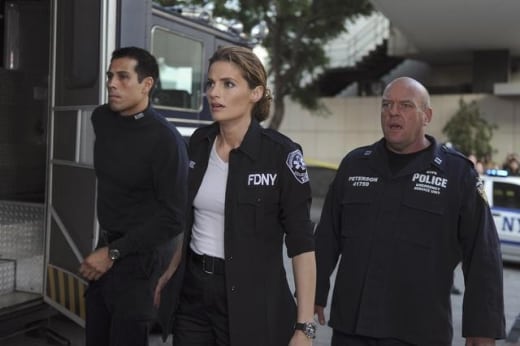 The Case. This episode still would have been great with the bank robbery being the only story; the background with the hostage/ring leaders family was just icing on the entertaining cake. Most of the time you can figure out what is going on, but "Sal Martino" was one thing that I did not see coming. 
Beckett killed it as the hostage negotiator, taking on Dean Norris' guest starring job. Guess the guy likes playing a cop. The situation provided the absolute best quote of the night, with Kate telling the robber that she will "personally come through those doors and put a bullet in his skull." Amazing.
Who else was on the edge of their seat when the C4 went off? Stana Katic displayed some serious acting skills in her reaction. Who knew that Castle had so many hidden talents, such as Morse code? Pretty convenient, huh? Thankfully Martha was wearing that obnoxious bracelet.
Caskett Beckle Moments! After reviewing the comments on prior episodes, we have officially changed the shipper name from Caskett to Beckle. Let us know if you have any other ideas! 
There were several moments between the two main characters that made any shipper's heart skip a beat. Let's discuss.
The robber telling Kate he was going to kill her boyfriend. No argument on their status at that time.
Beckett admitting that he is her partner and will kill for him.
The small hand-holding scene when she came in as a paramedic. 
The two knowing each other well enough to know that Kate is sure of the clues Castle is sending her way.
The rescue. Beckett yelled for Castle, got to him and smiled. Martha said it best in letting her know that there were other people there!
Dinner at Castle's screamed family time. Loved it!
There were enough smiles and longing glances to last a few episodes, don't you think?
Side Notes:
How creepy was the body of the dead wife? In the words of the infamous Summer Roberts: EWWW.
Alexis finally kicked Ashley to the curb. Good for you girl. Time to find you a man who is around and has the time to return your phone calls.
Martha served a serious purpose tonight and it was excellent. 
Some mentions of episodes past...Castle rescuing Beckett from the explosion in her kitchen, The Old Haunt. Awesome.
The robbers used TV doctors as their names...Trapper John, Dr. Huxtable, Dr. Quinn Medicine Woman, and Doogie Howser. Which one is your favorite??
"Cops & Robbers" turned out to be a pretty solid episode, delivering the anxiety and suspense just the way us viewers like it. What did you think, TV Fanatics? Did this latest hour measure up or was it not enough explosion for you (Sorry! Couldn't resist!!)? Sound off below and check back later for the Castle Round Table. Until next week...