Gossip Girl Review: Chuck Bass, Out of Hell
Steve Marsi at .
After a brief hiatus, Gossip Girl returned this evening with an episode that took its sweet time getting off the ground, but ended with a flourish, potentially reigniting a couple that was once the show's signature.
Chuck Bass is so, so sorry. For everything.
Seriously, he is, and he's got a lot to apologize for. It took some soul searching and prodding from the worst psychiatrist ever, but he's finally made peace with Blair Waldorf, and just as significantly, himself.
Listening to him rattle off his failures was heartbreaking, even if there's no defending them. Only after baring his soul tonight has Chuck become the man who many, including Blair, always wanted him to be.
Vowing to take care of himself and end the self-destructive behavior that nearly took his life at least once and left his relationships in tatters, Chuck appears to have been liberated from his personal hell.
The question is whether he's too late.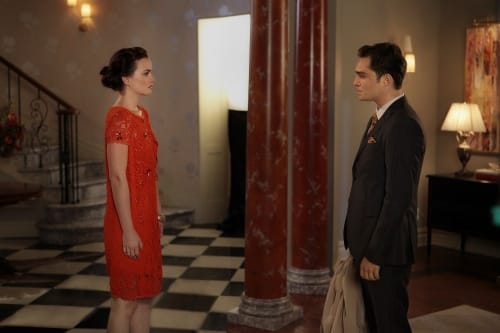 He may not be. As Blair observed, by trying to shield her from the monster he believes Chuck to be, Louis became that which he abhors. It could cost him. A Chair reconciliation isn't a given, but the door is ajar.
Louis going away for a few days, Chuck doing everything but say those three words and eight letters to Blair, the obligatory masked party episode next week (see promo) ... the stars are definitely aligning.
Most of the episode was alright, but lacked the sizzle that certain characters bring when on screen together. In other words, no Blair and Chuck or Blair and Dan (or even Dan and Chuck for that matter).
The first substantive Chair scene of the season was definitely worth the wait. Not that their storylines have been poles apart. Dr. Eliza Barnes was right about that: For Chuck Bass, it's always about Blair.
Watching B run the potential bridesmaids ragged was hilarious, but felt superfluous in a sense. It was great to see the future princess return to her Queen B roots, and yet you wonder what the point is.
Maybe she just had to feel like she was in control of something, anything, if only for a day. Is she even going through with this wedding? And did Louis see the test results, or just that there was a test?
Will she be content with the safe choice instead of obvious true love? Will he go for broke and try to win her back? If he does, will she embrace him? Will that ring still be on the stoop tomorrow morning?
All unanswered questions, but Louis has his work cut out for him when he returns. Bribing a doctor to spy on and sabotage Chuck? As harsh as it is dubious that any doctor would consider such a thing.
Even Blair seemed repulsed at what her fiance had pulled after Chuck, in typical fashion, effed with the effer and outed Louis in public. Of B's two loves, the Basshole certainly had the superior night.
While tonight delved right into Louis' ill-fated, poorly-acted antics (Hugo Becker is really overselling his pissed-off face), it only briefly touched on another mystery introduced in the previous episode.
Chuck recognized Diana from ... somewhere. This woman is connected all over NYC, and not just because of the Spectator (the logo of which looks a lot like the Gossip Girl official site logo, amusingly).
We saw her manipulate Serena, wield unspoken power over her old friend, become territorial over Nate and smack down on the oft-maligned Charlie. And she's connected to Chuck's mom somehow.
The plot thickens for Diana Payne: International Woman of Mystery ...
I'm starting to get the feeling we've barely begun to scratch the surface of what this British invasion entails for the Upper East Side, but the media mogul has her claws in nearly every character at this point.
At times I've been on the fence about Elizabeth Hurley's character, but the intrigue has built considerably in recent weeks, with the stakes raised this week on multiple fronts. What's her endgame, though?
Is she really motivated by taking down Gossip Girl, or something beyond that? We'll obviously find out, but the way the writers keep peeling back layers of this woman, the end may be nowhere in sight.
Serena van der Woodsen may be her new minion in any case. Looks like the former gossip staple is now trying her hand as a celebrity gossip blogger. Wait ... Serena can write?! I kid. For the most part.
Her new career pursuit arose after Diana helped sabotage Dan's book, which Serena landed, then wanted killed when it was going to be a hatchet job on Dan, a la Mark Zuckerberg in The Social Network.
Tonight's episode, "I Am Number Nine," took its name from Dan's debut spot on the N.Y. Times Bestseller List. By the end of the evening, however, he was off the list and Inside the movie was DOA.
I have to imagine the book and film will be revisited, if only because there's so much material there. For now Serena deemed it a necessary casualty, and her relationship with Dan more important.
With so much attention paid to Chuck, Blair and Louis, the possibility of Dan and Serena getting back together seems like an afterthought, but remains a very real possibility. The feelings are real.
Nate and Charlie, on the other hand? They're both attractive people, and there was a bit of a spark there, but she's been such an extraneous character so far that it's hard to invest yourself in her.
Still, Diana broadcasting her relationship with Nate was an interesting twist. They're setting up Charlie developing a connection with Nate, possibly just in time for the fraud that is Ivy to be outed.
Overall, not the best episode for the first two-thirds, which lacked urgency, but by the end, the wheels were turning with the scandalous, emotional developments being churned out left and right.
Do you agree? Do tonight's events spell trouble for Blouis? Do they portend big things for Chair, Derena, Narlie or all of the above? What do you predict will happen next week and beyond? Tell us.
First, take a look at the promo for next week's "The Big Sleep No More" ...
What did you think of tonight's Gossip Girl? Leave your comments below!
Steve Marsi is the Managing Editor of TV Fanatic. Follow him on Google+ or email him here.