What's a bachelorette party without some insane partying and memorable stories for the day after?
Or the wild bride-to-be getting arrested and told to cool her heels in a jail cell, for that matter?
As you can see in this photo from the Gossip Girl set, Blair (Leighton Meester) lets loose and gets into a bit of trouble at her bachelorette party after seemingly joking around with a police officer.
Maybe he just didn't get the joke ...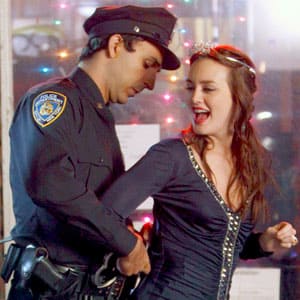 According to E! Online, both Chuck (Ed Westwick) and Dan (Penn Badgley) are on the scene to try and help Queen B, but she's still arrested anyway. What do you think she did that got her handcuffed?
More significantly, do you think she'll end up with Dan or Chuck? Or neither?
We're not sure exactly when Blair's crazy night out will be, but we do know Serena throws her a shower on the November 21 episode, and bachelorette parties tend to follow those. So ... there's that.
On an unrelated note, it looks like the big secret involving Ivy (Kaylee Defer) is coming out soon. But E! says she and Carol (Sheila Kelley) find a way to avoid disaster and cement Ivy's place on the UES.
Share your thoughts on these teasers and all things Gossip Girl below ...
Steve Marsi is the Managing Editor of TV Fanatic. Follow him on Google+ or email him here.