NCIS: Los Angeles Review: Sam Hanna Revealed

Carla Day at .
"Betrayal" was quite a roller coaster. Given that he is such an integral part of the show, I never really thought Sam's life was in danger, but the hour was written such that you had to wonder. And, not once, but twice. How nerve-wracking!
I have to give huge high-fives to both L.L. Cool J and Chris O'Donnell for their performances. They normally run around shooting people and solving cases and, while they did both, this investigation was driven by strong emotions.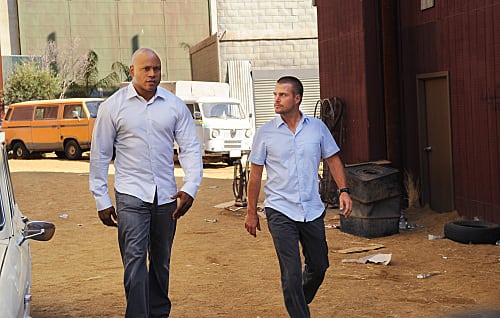 Sam was sent to continue his undercover mission with the CIA in Sudan. When the CIA operatives were found dead, Callen immediately went to Sudan to find out whether Sam was alive or dead. Fortunately, Sam was still alive, but was playing a dangerous game cultivating a romance with the sister, Jada, of the dangerous Sudanese Leader, Tahir Khaled.
Sam was convincing in his love for Jada. Even though, it's no secret that Sam has a family at home, I think he really did fall for Jada in some respect. I bought their fairy tale ending for about a minute, then realized he was playing her to get what he needed. Sam had feelings for her to the extent he wanted a better life for her, but perhaps more.
O'Donnell gave an amazing performance as well showing his feelings for Sam. The fear that Sam was dead was written all over his face at the morgue. He again showed how much he cared about Sam by agreeing to let him stay and risk his life to bring down the despicable Khaled. But, even more than that, Callen agreed to help him save Jada by bringing her back to the United States.
This isn't the first time we've seen the toll undercover work takes emotionally. When Sam told Jada the truth in the airport hanger, it reminded me of when Deeks had to reveal his true identity to his undercover ex-girlfriend. In both cases, the men did fall for their undercover loves in some respect. I can't even imagine how horrible it must feel to betray someone like that, even if ultimately it is for the greater good. Sam's goodbye to Jada was absolutely heartbreaking to watch. The pain on both of their faces was excruciating to witness.
One annoyance I had with the episode was that it was based on a CIA leak. If I believed our government operated like they are depicted on television, I'd think everyone is a leak. There always seems to be a leak, a mole, or someone corrupt in the government. I guess that's what NCIS: LA is all about, investigating Naval crimes, but I'm over stories about government leaks.
Overall, this was a well-written and superbly acted episode. I'm glad we finally got a glimpse into the life of Sam Hanna, even though we didn't actually see his family's faces. Unfortunately, I took that to mean that we won't see them again anytime soon.
What did you think of Sam's actions? Were his lies to Jada justified for the greater good? Share your thoughts in the comments and download L.L Cool J's new song HERE!
Carla Day is a staff writer for TV Fanatic. Follow her on Twitter and on Google+.