Play ball!
Psych found Shawn and Gus venturing into the world of minor league baseball on "Dead Man's Curveball," as they investigated the mysterious death of the team's assistant coach. While it wasn't as much of a home run as I might of liked, the episode at least got to third base.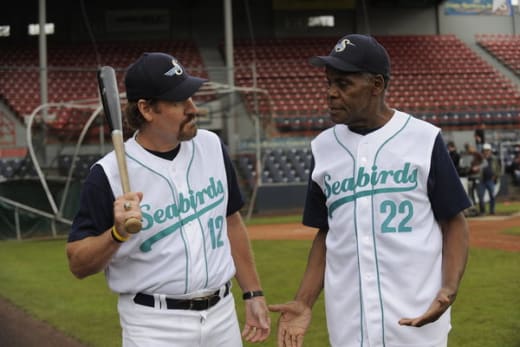 Typically, I find myself in love with every hour of Psych, but I couldn't help but feel a little bit like Juliet in the stands during the game: I was there, but that magazine sure looked good. Maybe it's because I'm not usually a super big fan of baseball? At least my slight distaste for the sport in no way hindered this installment from continuing Psych's fantastically entertaining sixth season. In fact, there were some purely brilliant moments that really made it worth watching.
First and foremost, we had the opening sequence with Shawn, Gus, Lassiter, Juliet and Henry playing softball versus the DMV. It was pure genius to have Shawn attempt to show off with what was a pretty good hit, only to have the moment dampened by his father's call as umpire. That's classic Shawn and Henry.
But what made it pure gold was their inability to remain calm. The shouting match and dislodge of home base towards left field was hilarious. For all those times you swear Henry and Shawn are over their drama, they prove us wrong with these great moments. It was interesting how this was also a bit of a bonding episode for the pair.
I mean, Henry did bolt in with the save when the general manager had Shawn, Gus, Wade and the coach held up at gun point. And it was a pretty messy take-down, too. Who knew Henry could tackle like that?
Then there was Shawn and Gus undercover for the Seabirds. Anytime we get to see these two in uniform, it's a fun day. Shawn was looking good in his coaching duds, but poor Gus! Seems like he got the short end of the stick on this one.
When they went undercover in season three for the football team in "Any Given Friday Night at 10pm/9c" at least Gus didn't end up the mascot. That said, Gus eventually took ownership of the role, right down to the defensive use of the t-shirt gun and perfect execution of the worm.
What really made Gus's undercover position was Shawn finally getting to do his impression of his friend. It could have used some work, but for a first shot, it sure was hilarious and even unexpected at the time.
A review of this week's episode would not be complete without thorough discussion of the amazing guest stars in their starting lineup. Who else could get three solid cameos for one episode? The appearance of Wade Boggs was only a chicken-eating cherry on top of having Danny Glover, a legend of film and television, plus Fairly Legal's Michael Trucco.
One of my only real complaints was the complete lack of Lassiter. Perhaps this was a way of preventing having too many lines and plots flying around, but I've seen the writers navigate this challenge while still integrating all of the normal cast with no issues.
Overall, Psych delivered another solid episode, even if I wasn't on the edge of my seat.
C. Charles is a TV Fanatic Staff Writer. Follow her on Twitter.