This week on Glee, the New Directions took home the hardware from Sectionals - but Sam and Shelby deserved an award for finally snapping some sense into Quinn, as they convinced her to enjoy the moment and hold on to her youth in "Hold on to Sixteen."
Finally, Blaine and Finn came to terms and, while the latter apparently doesn't need to worry about being bullied anymore after showing his proficiency with the heavy bag, I loved seeing Kurt show some grit of his own as he verbally sparred with the would-be Warbler wooer. He also showed unicorns are not just magical creatures. They are humble, too, as he congratulated Brittany on her victory.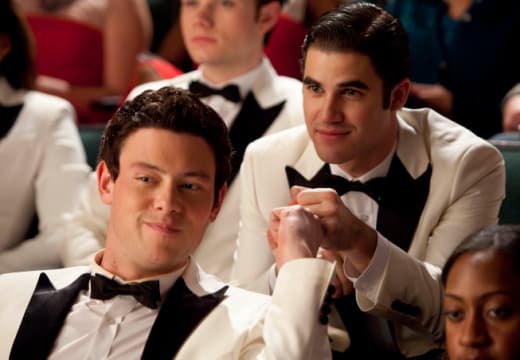 Santana, meanwhile, was en fuego as usual when she whipped out the little journal she had filled with an array of Sam slams in hopes he would one day return. Great cameo by Smallville's John Schneider as Sam's dad as well. 
Mercedes never shined so bright, either, whether it was her smiling as Sam yelled to her down the crowded school hallway or when she and the Trouble Tones were mashing up Survivor and I Will Survive. While they did the songs serious justice, I could not get past the overly gesticulated choreography. They certainly out-performed the Unitard's "Buenos Aires," which was good but was more a full length solo for Harmony (Lindsay Pearce) than a team effort.
The best team won this week, as every active member save Rory and the three random band members shared the spotlight at one time or another. I loved the progression of Jackson family songs, from the Jackson Five, to Janet and ending with the late great King of Pop himself.
The celebration song "We Are Young" could not have been more fitting. It served as a solid follow up to last season's "Dog Days Are Over" and did well to make me forget the weaker selections this week, such as Sam's rendition of "Red Solo Cup." 
Next week? A holiday episode! This week still? A rundown of the best Glee quotes and Glee music!