Blair Waldorf's wedding takes place January 30 on Gossip Girl, but will she actually be a married woman by the end of the episode? Until now, our guess would have been a resounding no ... but now we're not sure.
The reason: A very intriguing photo from the set that surfaced online.
See below: Leighton Meester wears what appears to be a wedding ring on the set of Gossip Girl Tuesday, December 13. There are plenty of plausible explanations, of course, but this has to make you think ...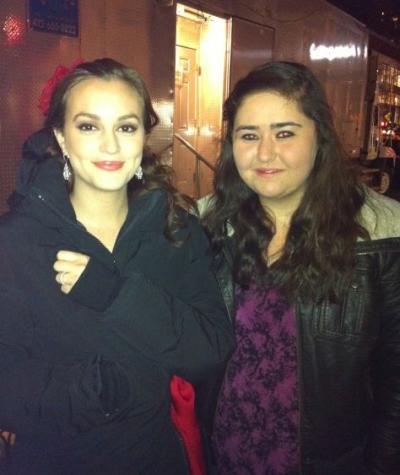 Does Blair really marry Louis, after everything that's gone down? Or is there a twist?
Asked about the episode, TV Line's Michael Ausiello said "Intel continues to trickle in and, if what I'm hearing about the episode's final act is true, it has the potential to be the single greatest hour of my life television ever."
So ... there's that. Doesn't sound like a reaction to a Blouis marriage, does it?
Michael also confirmed that Serena will be channeling her inner Marilyn Monroe, as revealed in the Gossip Girl dream sequence that was briefly leaked online Friday, only to be removed on copyright grounds.
Whatever happens, the 100th episode event is shaping up to be one for the ages.
Share your theories, observations and comments on this set photo really a wedding ring? Does she marry Louis? Does she marry someone else? Is it all a dream? - and the wedding in general below!
Steve Marsi is the Managing Editor of TV Fanatic. Follow him on Google+ or email him here.