Happy Endings Review: Muggings, Morals and a Merry Christmas
Leigh Raines at .
It must be noted that, as I wrote this, Happy Endings was a trending topic on Twitter and I couldn't be happier! "Grinches Be Crazy" was a true Christmas miracle. Why? Max found a heart! Plus, he really does look good in a chunky belt.
When Penny's charity event needed a last minute Santa, she was almost stuck with a smelly guy named Leslie from behind the DMV. And let's just get one thing straight, you know there are totally tons of smelly guys waiting to play Santa behind the DMV. Luckily for everyone, Max needed the cash and the jolly man with the white beard came to life... with a vibrating belly.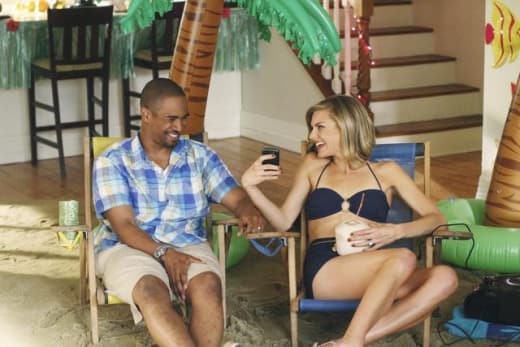 Of course, Max was probably drunk and never expected to give a crap, but then came Oliver. For the second time in one night, an ABC comedy brought me to tears. When his mom said that Oliver hadn't laughed in years, Max wasn't the only one whose eyes were welling up. See people with questionable morals and sinful drawers can be do gooders, too!
When Max reprised his role as Santa and told off handsy Gary for the little redheaded boy, I was in love. Granted, his friends were disturbed that he was showing actual emotion and donating his time to charity, but hey he is who he his.
Besides what's more fun than a Santa who saves his best friend from a mugger while shopping for gay porn? Penny was hilarious as always. She would care more about being called "Lady" than having her stuff stolen.
One thing I did not buy about this week's episode was the Indecent Proposal scene. There is NO way an OCD, neat freak like Jane would ever be caught rolling in money. Everyone knows cash is extremely filthy. Accidentally stealing back money from her housekeeper? Now that I can see.
I can't believe she was about to let Brad get carted off by the police. Like Brad said, "I can't believe Max is a better person than you!" For more lines like that, hit the quote section.
Ultimately, the good in Jane came out and she gave away their trip to Turks and Caicos. Gita, the housekeeper, got her groove back. Two other people who look like they might get their groove back? Alex and Dave. I guess cashing in all of those coupons rekindled some kind of spark in them. After all, my mother still thinks coupons are a great gift.
Hey, whatever works! Happy holidays to all and a donkey kick from Max!