What's even more fragile than a raw egg? How about Claire and Jay's egos! "Egg Drop" was just another example of how important competition is to the Pritchett crew.
Big props to Manny for figuring out how to use Jay and Claire's competitive nature against one another in order to avoid doing a school project. I'd say Manny and Luke, but let's get real, the kid who was going to toss his body off the top of the stairs for his project clearly was not the brainchild behind this operation. Manny really is a child of the mind.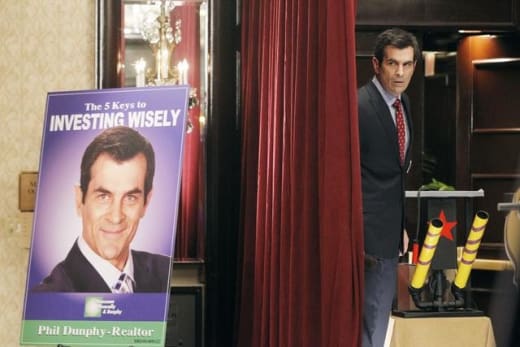 Did anyone else think about the Full House episode with the egg drop here? I bet Alex would have considered it cheating. Loosen up, girl, that's what siblings are for! Helping each other on silly projects that you've already done! Well... that, and screaming at each other.
Gloria was almost dead on with that one. I wouldn't say that you know your family loves you when you can yell at each other because that's just madness. But I would say that it takes a really tight family to be able to fight and bounce back and say I love you right after. Just ask my sister.
It's all about learning to thicken your skin and communicate openly when you're part of a big family. Just don't tell Cameron you think he's pitchy. You know how touchy he is about things like that! Too bad, but I don't think that was the right birth mother for them. There wasn't much of a connection there.
As much as I adore silly Phil, I love that he got a little real this week. For once it was less about being the jokester and more about the fact that he really just needed his family's help. That presentation was important to him. He's such a pushover. I'm glad Gloria pulled his true emotions out, no matter how nutty that sounded.
I found this week's Modern Family a major improvement over last week's installment. Even little moments like Alex thinking she was having a deep conversation with Haley, when Haley was really on her cell, had me giggling. Don't forget to check out the best quotes from this week and hit the comments!