If the opening moments of the One Tree Hill season 9 premiere didn't make it clear that these characters were going to face severe consequences over the next few weeks, then the final minutes of "Love the Way You Lie" certainly did.
Julian Baker, one of the few people in Tree Hill that we have been able to count on for stability over the past couple years, got a bit too excited about the prospect of producing a television show at his way too empty sound stage, and might be paying the ultimate price for it.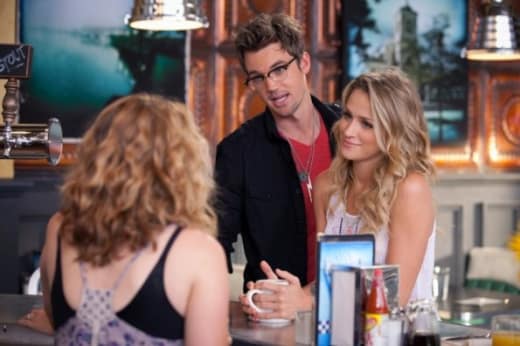 What, exactly, happened at the end there? Baby Davis was gone. Julian's car windows were smashed. There was a stretcher, cops and an ambulance at the scene. So was the baby stolen? Hurt? Worse? Whatever the case may be, this is the worst thing that Julian has ever done, and that is taking into account the embarrassing Goonies monologue he performed in front of Jamie's class hours earlier.
At this point, though, not many people that we know in Tree Hill are in good places...well, except maybe Chris Keller, who is having himself a jolly good time interviewing coeds for intern positions and taking Chase out to strip joints.
Even with Julian massively screwing up, the rest of the couples on OTH are in such shambles that he and Brooke still top the One Tree Hill Relationship Rankings this week. Let's say "Chef Jeff" a few times, and then take a look...
1. Brulian
These two have become such a rock that I would be surprised if they don't make it through this latest disaster with ease. Hopefully Davis is okay, and these two can get back to being awesome with each other.
While Julian was begging for people to use his sound stage, eventually getting one, and then buying celebratory booze instead of bringing his kid to day care, Brooke was going through quite the emotional roller coaster herself.
What kind of parents did she end up with? As awful as Ted was to her by using her to benefit the company, Victoria was exponentially worse when she first came back to Tree Hill. Spending some time with the adult Brooke did Mrs. Davis wonders, so maybe if Ted had stayed around, he could have grown to be a more mature person as well.
Now they're both gone - for the time being - and Brooke has to deal with this latest catastrophe with baby Davis. Just when we thought Brooke was happy for once!
2. Naley
Although they weren't on screen together this week, they still have to get mentioned at the two spot because the other two couples were in such disarray.
With Nathan gone, Dan continued to help out, this time by cooking up some mean burgers at Karen's Cafe. I have not been surprised that Haley keeps giving Dan chances to make up for what he did with good deeds, but I was a bit shocked that she did so in such a public manner at the cafe. That's a big move, taking the side of a convicted murderer.
Haley coming to her senses, and relieving Dan of his duties, was nice to see. She was doing it for Karen, and hence for Keith. Haley will allow Dan to stay in HER house, but not in KAREN's cafe. I agree with the lines that Haley draws.
3. Millimouth
Mouth being so blatantly fat, over-eating and complaining about shrunken shirts is hilarious by all accounts. Millie calling him fat, fat, fat! on television does not help their cause as a couple. Honestly, how many times did he have to complain about shrunken shirts, longer stairways and tiny buttons before he got the hint?
It's like when Doug Heffernan on King of Queens first realized he was fat when he saw that his clothes came from the big and tall stores. Some people just can't figure things out, and like Mouth, need to be told in front of all Tree Hill that they're fat, fat, fat!
4. Clinn
So not only was he not sleepwalking, but he was lying to Quinn this entire time about what was going on. And then Clay had the gall to continue to lie to her face when she obviously had caught him in the act.  He can say that he's "sorry" as many times as he wants, but how does Quinn get over what he has been doing since the shooting?
No longer ranked is Chalex. Alex is definitely gone, and Chase just drowned in his sorrows for this entire episode. Is he going to continue on this downward spiral until he ends up in the back of that cop car that was foreshadowed in the premiere? I hope not. Hopefully his buddy Chuck will stop emulating Chris Keller for two minutes so that he can cheer Chase up. Alcohol and strippers are not doing the trick.
"Love the Way You Lie" was another good episode of One Tree Hill. What did you all think of the installment? What on earth happened to baby Davis? And who tops your Relationship Rankings this week?  
Dan Forcella is a TV Fanatic Staff Writer. Follow him on Twitter.