Pretty Little Liars Review: A Tale of Two Alisons

Teresa Lopez at .
Just when I start to get frustrated with Pretty Little Liars, it throws me a bone. Or rather a claim ticket.
"A Kiss Before Lying" provided the secrets, revelations and dramatic tension that should have been in last week's episode. In fact, it was almost too much action for one hour. But I enjoyed every minuted of it!
The biggest reveal of the night was Alison's creepy alter-ego: Vivian Darkbloom. This pseudonym for Lolita author Vladimir Nabokov creates some pretty icky implications. Nabokov's absorbing and disturbing story of Humbert Humbert's passion for nymphets (specifically the titular Lolita) adds a bizarre and distasteful tone to Ali's relationship with Ian. In fact, it casts a weird shadow on all the pairings of older men and younger women: Ezra and Aria, Spencer and Wren (Spencer and Ian for that matter), Jenna and Garrett.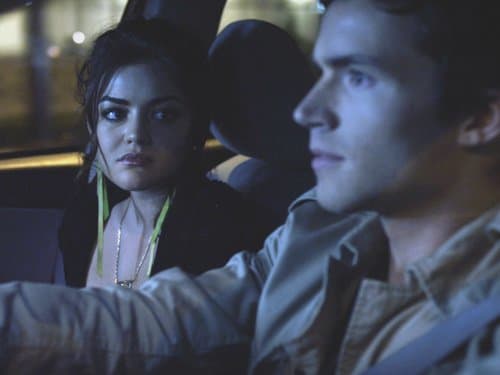 Was Ali trying to point out some disturbing behavior in the men of Rosewood (Ian, Garrett, and/or Jason)? Or was it just her favorite book? Another weird Ali-thing?
But the discovery of her strange interludes as Ms. Darkbloom was not only the only piece of the puzzle revealed. An old claim ticket from a place called J & L was placed in her copy of Lolita. Spencer called the place and, miraculously, they still have whatever was left there so long ago.
Is it just dry-cleaning? Or could it be more something more sinister like the videos the N.A.T club desperately wanted back?
This little piece of evidence kept Spencer occupied for most of the episode, which was a good distraction for her. She's really been mourning the loss of Toby and was even caught wearing his t-shirt under her own clothes (so sad!). Spencer was also helpful in finding a way to keep Kate from turning on Hanna again... until A sabotaged the whole thing.
Even though Kate was pretty diabolical when she got Hanna drunk and somehow arranged for Hanna to puke on her mother's wedding dress, I feel pretty bad for her. Hanna did start their little war by very publicly bashing Kate, her mother and her friends just because she felt like being bratty. Now, these naked photos are going to make life even more miserable for a girl who just had to leave her home and her friends to move to Rosewood. Being a teenager in this town is tough!
Meanwhile, Aria has decided not to tell her friends that she and Ezra are back together. It seems like the girls are beginning to keep a lot of things secret from each other lately. However, Aria and Ezra might not be together for very much longer. Due to a glowing recommendation by Aria's father, Ezra is offered a position at Hollis satellite school in Louisiana. It's a very tempting offer, but will he take it?
Also, I thought I picked up on some flirting between Holden and Aria. They are pretty cute together (and age-appropriate). But where did he get that painful bruise? Perhaps things aren't as good as home as we thought. Maybe Holden is using these outings with Aria to avoid an abusive situation.
With so much going on in this episode, I have to quickly point out these other exciting scenes:
Maya was being awfully petty with Emily's mom, making for an awkward dinner. I didn't like that somehow the blame got shifted to Emily for being jealous of Maya's ex-boyfriend.
How cute was Caleb trying to stand up to Jenna for Hanna! And how terrifying was Garrett's thinly veiled threat?!?
Our mysteriously dark-gloved A took a gun out of a locked drawer in the Hastings's office. Is this a sign of more violence to come?